Even if you're gluten free, you can still enjoy tasty bakes, as FREEE – the #1 gluten free flour brand in the UK* – has shared this easy to prepare and delicious recipe that make gluten free baking as simple as 1, 2, FREEE!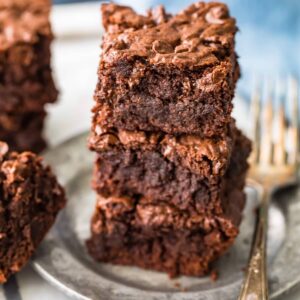 Print Recipe
Gluten Free Chocolate Brownies
Free from Gluten, Soya, Wheat, Dairy, Nuts and Vegetarian

Servings: 12 servings
Ingredients
150 g plain chocolate or vegan chocolate
100 g butter or vegan butter
200 g sugar
100 g FREEE Plain White Flour gluten free flour
1 tsp FREEE Baking Powder
3 eggs 3 tbsp FREEE Chickpea Flour + 6tbsp water
Instructions
Pre-heat the oven to 180C/ Fan 160C / Gas mark 4

Rub some butter around the inside of a 15x20cm/6x8" baking tray or insert a baking liner.

Gently melt together the chocolate and butter.

In a bowl mix in the sugar, flour and baking powder.

Break the eggs into a large bowl, beat to combine then beat in the flour mix.

Stir in the melted chocolate and butter. Pour into your prepared dish.

Bake in a pre-heated oven for 22-30 minutes.

Cut into squares or slices before serving warm or cold.