Gardening is great medicine at any age. In recognition of RHS National Gardening Week 2-8th May, now is the time to be inspired by getting outdoors and reaping the health benefits…
Whether it's tending to your own patch or visiting one of the wonderful gardens that are open to the public – the benefits of gardening to our both physical and mental health are clear.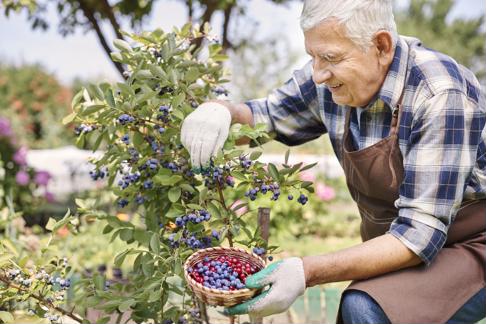 Relieve stress and anxiety – It's no surprise given the last few years that we are all harbouring a certain amount of stress and anxiety. Gardening is proven to lower cortisol levels in your brain. Cortisol helps to sustain body functions and is known as the "stress hormone". If you have too much cortisol, your blood pressure and glucose levels can fluctuate. However, by getting handy with a trowel you can show that cortisol, and weeds, who's the boss!
Boost your immune system – We all know gardening can get a little messy. It turns out, a little dirt will not hurt you – it might even help!
Studies show that Mycobacterium vaccae – the bacteria that is found in garden soil, can have a positive effect on your immune system. This "friendly" bacteria have been known to alleviate allergies, asthma, psoriasis and even depression.
May reduce the risk of dementia – Gardening may lower the risk of dementia by as much as 36%. Gardening requires the use of many critical functions such as dexterity and sensory awareness, so by spending even a small amount of time outdoors on a regular basis, we can maintain motor skills and improve endurance and strength.
Great exercise! – While it may not be a vigorous activity like swimming or bike riding, gardening does provide a great deal of physical activity and even light exercise can help slow down the aging process. However, it is always a good idea to do some light stretching before and after spending time in the vegetable patch so to avoid any injury.
Enjoy the fresh air – it can do amazing things for your mood and your health. Sunshine helps your body to produce vitamin D and boosts the serotonin levels in your brain. Serotonin is a chemical that improves your mood and helps you feel calm and centred. For anyone suffering from Seasonal Affective Disorder (S.A.D), a form of depression that happens with the change of seasons, this can really help boost your mental and emotional health.
Be careful while out in the sun and remember to protect yourself from harmful UV rays by wearing an SPF of at least 30, sunglasses and a hat when you are outdoors as well as taking regular breaks and staying hydrated.
If reading this makes you want to spend more time outdoors this spring, why not consider a hobby like gardening that will benefit your physical, mental, and emotional health.
And should you need help to get out and about, The Homecare People are on hand to support you. Our companionship service enables clients to continue doing things that they enjoy, from a trip to the garden centre to help getting into their own garden. If you would like more information about home care options that help people continue to live life to the full, please get in touch or contact our homecare team in Wokingham on 0118 977 7499 for more information.