We Brits are a nation of garden lovers, this much is undeniable, but this last year and all its challenges have deepened our appreciation for our outdoor spaces. This issue we catch up with a remarkable transformation – the change in this edition was that of a derelict, unused and overgrown space on a steep slope, into a smart, tiered city garden.
Do you have grand transformation plans for your garden but don't know where to start? We caught up with the owners of this amazing redesign, couple Daniel and Katherine, and found out their motivations for the change and how they went about the transformation on a budget.
Firstly, can you tell us more about the garden before and why you decided to take on the project?
Like many people, we were desperate for some outside space – our flat had a small courtyard but we wanted somewhere we could entertain and somewhere for the dogs to enjoy.
The details surrounding actually buying the land were a bit unusual – it was a plot backing on to the communal garden of our building and came up for sale from a previous owner. Despite the state it was in, we snapped it up, knowing we could make something special.
The before photos show the level of work needed – where did you even start?
We realised early on that we would need professionals in – not only was the site overgrown, it was steeply sloping and had a strange slab of hard-standing in the middle. We enlisted the help of a garden landscaper and together devised a plan to make a sociable space with lots of room for plants but also a big deck. The layout was in part influenced by formal Georgian planting – the garden backs onto a Regency-era building, so it felt right to nod to that heritage.
First there was a lot of clearance work – an old stump had to come out and then years of brambles. Then it was on to a mix of excavating and filling the various layers.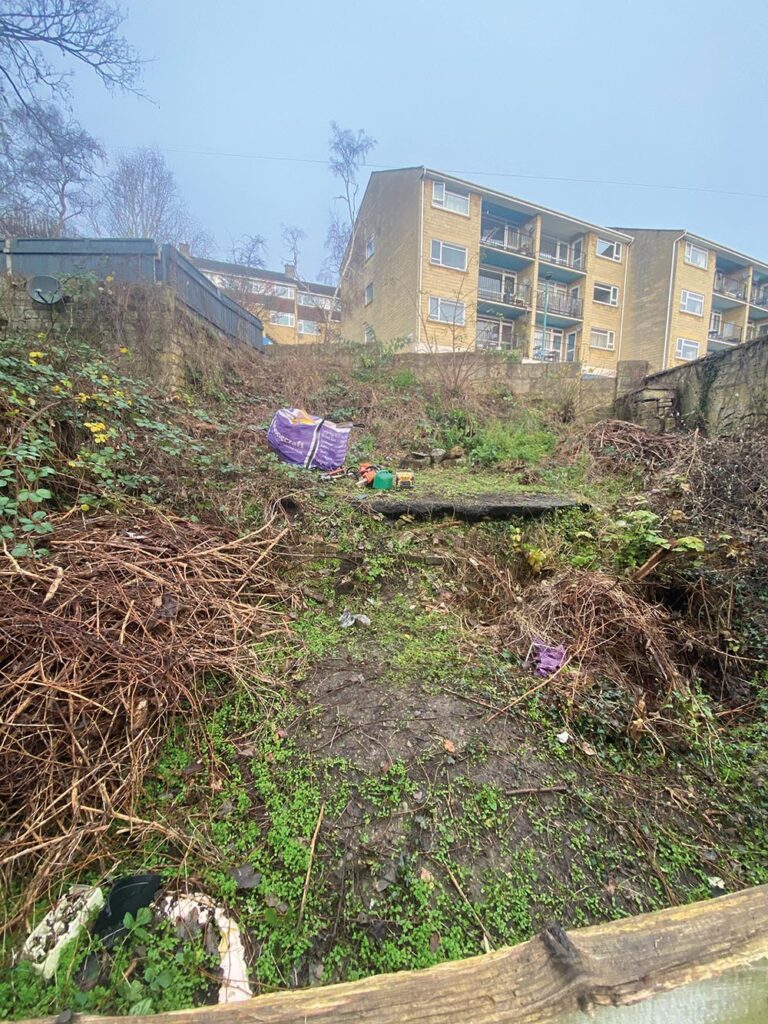 The site also had literally tonnes of stones in it, so it made sense for us to use gabions, the metal cages, as our retaining walls. We had planned to buy more stones for facing them, but in the end we didn't need to. 
We wanted the space to be pretty low maintenance, so the bottom section is a material called hoggin, which is a self-binding gravel (it's mixed with cement). It creates an even, solid surface but it is also free draining, which was important as this was the lower section. It's really good value for money too.
What inspired your planting scheme? 
We were aware that we wanted this to be a good space for city creatures and insects – the planting included lots of pollinator-friendly plants to try and encourage them – in turn we have lots of birds which is lovely. We filled the raised bed, which was created with sleepers, with top soil and got to work planting a mix of plants – we have geraniums, cornflowers, sedums, geums, sweetpeas, alliums, violas, salvias, foxgloves, thistles and some Ravenswing cow parsley – there is also some interest for early spring with lots of daffodils, hellebores, muscari and tulips.
Either side of the lawn, a more formal, framing effect is achieved using boxus – it's literally instant impact and really helps enforce those tidy lines.
Alongside the borders, we really wanted a tree in the mix too – so we ordered a lovely small silver birch from primrose.co.uk – it moves in the breeze so beautifully. We can pot it on as it grows and eventually plant it in the garden of a future home.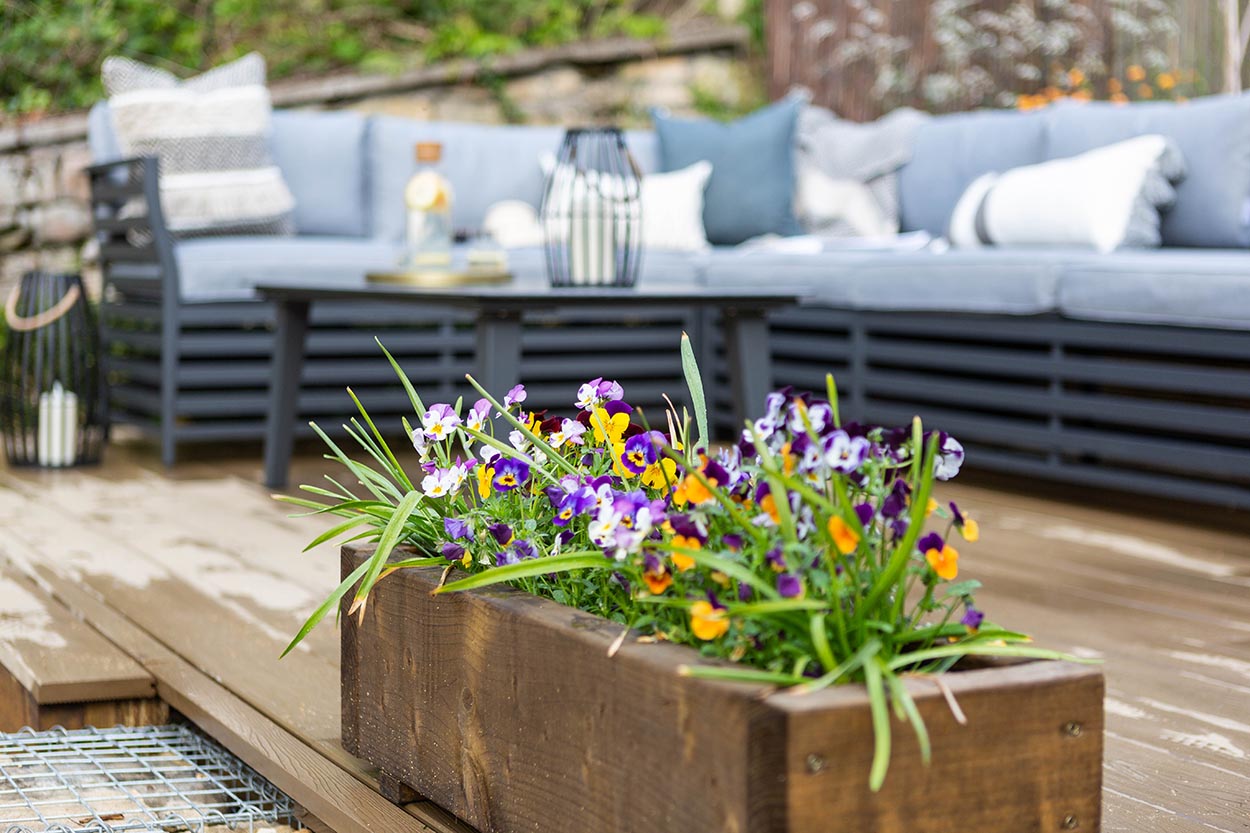 The deck looks amazing – is it a sun trap?
Absolutely! We were adamant that we wanted something low maintenance so we went for composite decking from a company called NeoTimber – in essence it has the natural look of wood to without the associated problems of cracking, splitting, warping and excessive maintenance requirements. It also had a 25 year residential warranty which was perfect for us as we can make the best of it now, but when we move it also gives the new owner peace of mind. 
We went for the Essential range which is hollow in the centre – it makes it really lightweight and by extension really easy to fit. It's also crazily cost effective at £6.25 per linear metre! It has given the space such an elevated look.
That furniture is amazing!
We really lucked out with these! Good garden furniture is a little hard to come by at the moment, but as soon as we saw the Salone range from Moda Furnishings, we knew it was the right one. Its modern lines look perfect against the tumbled Bath stone walls and the configuration of this set was the perfect size for our space.
Continuing on the low maintenance scheme, it was essential this was furniture that could stand up to the elements, not lease because we don't have room inside for the cushions. The frame is powered coated aluminium and comes with a 7 year guarantee and the cushions are what is called 'hydrophobic' meaning they repel water – they're UV resistant too. We can leave it out all year – thought we have bought a cover to protect it for when it isn't in use. 
The access for the site is also dreadful! But the delivery team made it look effortless and even did it with a smile – we were so impressed.
How is it lit? 
We don't have a direct power source up there so lots of installed lights were an issue – so we opted for a mixture of options from lights4fun.co.uk – mostly their amazing solar-powered lights, which have a great output given their diminutive size! We also have some festoon lights from there – these come in connectable 5m lengths so it's great to have options to make the right size for your space.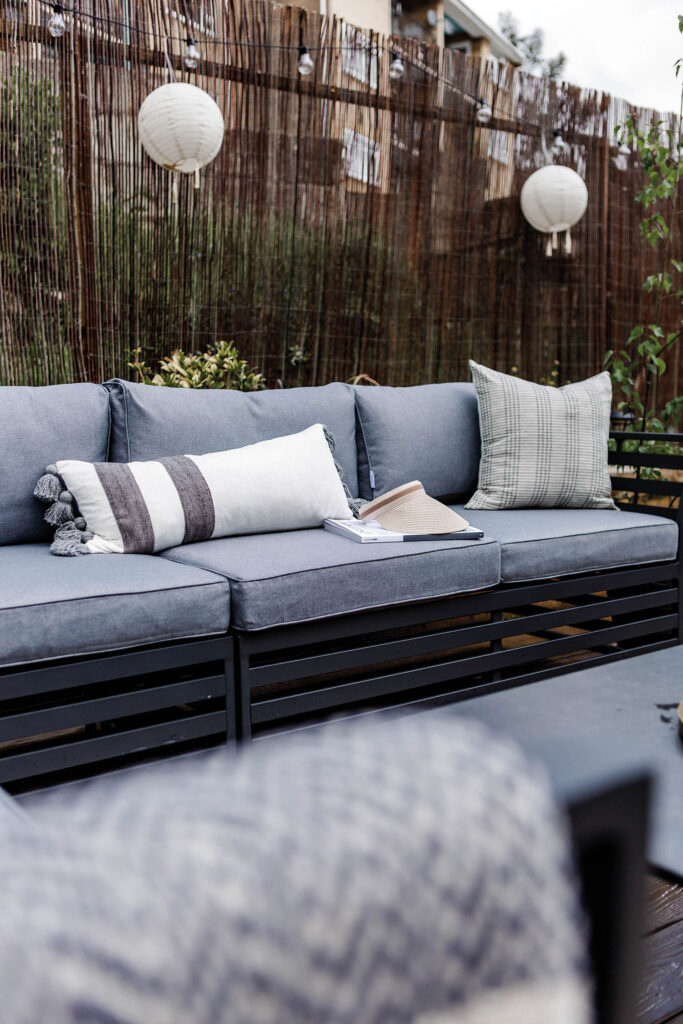 What's next?
The craze for fire pits continues and we'd like to get our hands on one – we always intended it for the hoggin area in the bottom section with some more seating around it. That spot also tends to get the last of the afternoon rays.
WORDS Katie Thomson
PHOTOGRAPHY Kiera Williams Photography
Images: 
Cushions and throw:  All from hauslife.co.uk
Furniture:  Salone Range from Moda Furnishings, modafurnishings.co.uk
Decking:  Essential Decking from NeoTimber, neotimber.com
Lights:  All from lights4fun.co.uk
Plants:  Primrose.co.uk