Walnut, Aubergine & Mushroom Keema Curry
To kick-start vegan month (November), California Walnuts has developed seven meatless meals for each day of the week.
The mild and creamy flavour of California Walnuts can be enjoyed in a host of recipes. Once ground, walnuts also offer a wholesome, plant-based meat substitute that can work in curries, pizza toppings and more.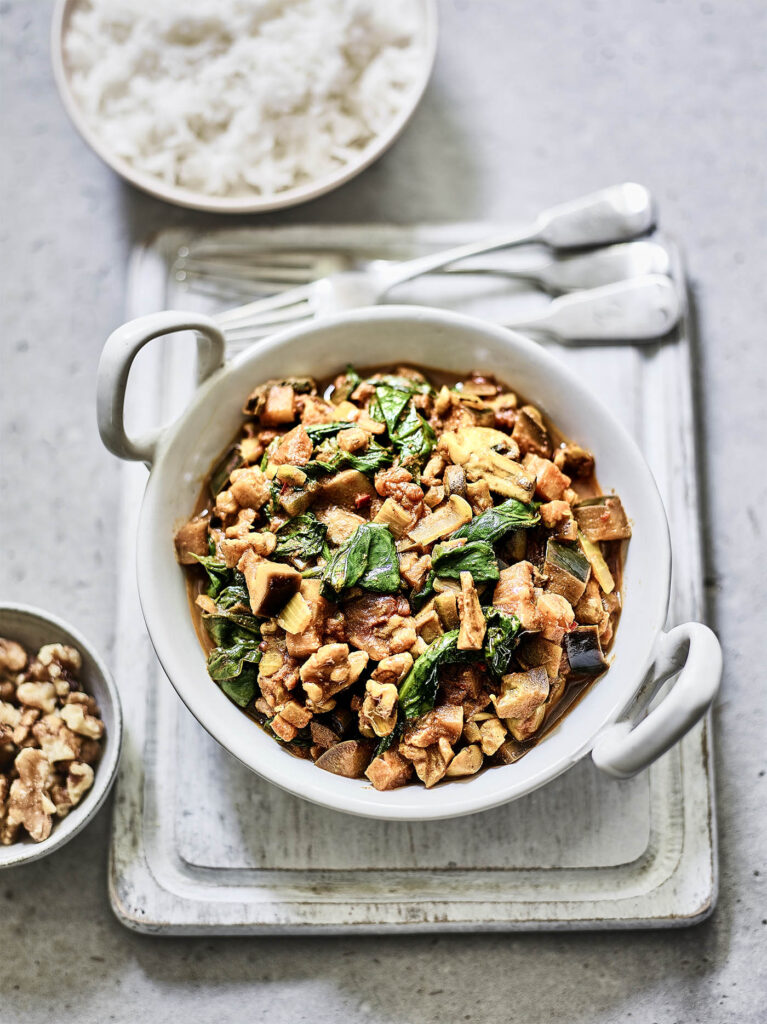 Course: dinner
Prep Time: 20 minutes
Cook Time: 20 minutes
Servings: 4
Calories: 561kcal
Ingredients
150 g California Walnuts chopped
1 tbsp oil
1 onion chopped
1 red chilli finely diced
1 tbsp medium curry powder
1 tsp ground turmeric
1 aubergine cut into 1cm dice
200 g mushrooms sliced
400 g can chopped tomatoes
100 g baby spinach
225 g basmati rice cooked
Instructions
Soak the walnuts in lukewarm water for 20 minutes, drain well.
Meanwhile, heat the oil in a large frying pan and fry the onion and chilli for 4-5 minutes, add the spices and then the aubergine and mushrooms, cook for a further 4-5 minutes.
Stir in the tomatoes, 100ml water and the walnuts, bring to the boil, cover and simmer for 10 minutes. Stir in the spinach until just wilted and season.
Serve with the cooked basmati rice.
Cooks tip
Try adding chickpeas instead of the aubergine and stir in chopped coriander at the end.
Nutrition
Serving: 481g | Calories: 561kcal | Carbohydrates: 52g | Protein: 16g | Fat: 31g | Saturated Fat: 3.6g | Fibre: 8.2g | Sugar: 9.2g