The Homecare People in Workingham help explain Care at home.
The world of care – like most industries uses a fair amount of jargon.  We've looked at one of these terms in a bit more depth to provide you with the insight you need…
Domiciliary care is the term used to describe any kind of care service which takes place in a persons' own private home – a more familiar term used to describe it is 'homecare'.
Home carers are employed by people for a wide variety of reasons and services can range from regular weekly or daily visits through to full 24/7 live-in care and everything in between. Homecare can help 'bridge the care gap' for anyone caring for a friend or relative, providing the extra support needed to extend care provided by family and to enable people to keep living independently.
From a helping hand with housework, personal care, or just a bit of company or support with getting out and about. Home care services can be tailored for you and can be built around personal requirements – for many people it is a great way to stay at home instead of moving to a residential care home.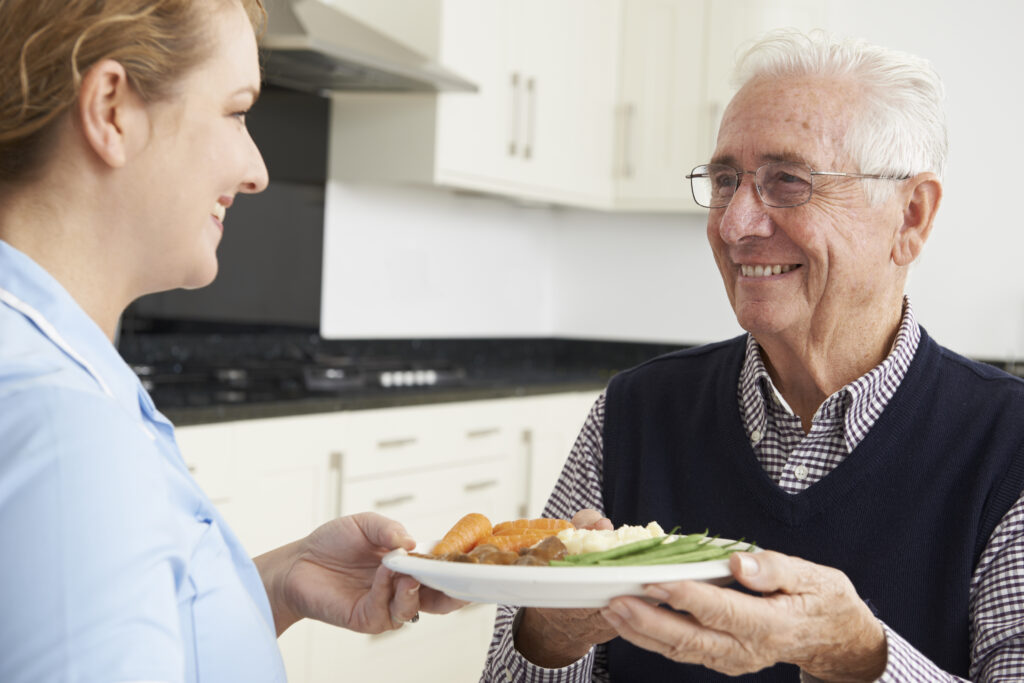 What is personal care?
Personal care describes any service which requires a bit more intimacy. A professional care company will ensure that any personal care is carried out in a dignified manner with fully trained carers being mindful of a client's modesty – there is nothing awkward or embarrassing about personal care when it's delivered correctly!
Here are some of the common things which personal care involves.
Help with getting up and going to bed
Help with bathing or showering
Help with dressing or undressing
Help with continence or going to the toilet
Taking medication – and supporting nursing care
Preparing nutritious meals and helping with eating well
Who do home care companies help?
Homecare is suitable for anyone who simply feels that certain tasks are becoming difficult and that they could use a little support with daily living, or companionship – there is no typical client. People use home care for a variety of different reasons, this can be because they have a physical disability which limits their capabilities at home. Or there may be a cognitive condition including dementia, Parkinson's or Alzheimer's. Home care fills an important gap for families who worry that they can't spend enough time to supporting relatives, perhaps they are not local or lack the skills to help. One of the benefits of private home care is that you can usually arrange support to suit you, perhaps to help with a hospital discharge or to provide a bit of respite.
How do I know what kind of homecare I need?
If you approach a professional care company (check those registered with the Care Quality Commission) then they should offer to carry out a care assessment, this will help to identify exactly what kind of care, including the times and number of daily visits you require. Care companies work closely with their clients and staff to continually assess what client's need, this includes decreasing or increasing the number, type or timing of care calls. For example, a client returning from hospital following an operation might decrease their number of daily care calls as their physical abilities improve.
Do home carers provide overnight care or complex care?
Another benefit of home care is that it can be tailored to meet individual needs. Sometimes people are very capable of looking after themselves during the daytime but may need someone to stay with them overnight. Flexible care provision, including overnight care, is one of the key advantages that home care offers – and again, helps people to stay in their own homes, in familiar surroundings for as long as possible.
Home carers can also support more complex care needs including a variety of medical conditions, either working alongside other healthcare professionals or independently following relevant training.
And what about carers who live with you?
Live-in care is also a form of domiciliary care, this is where the carer lives with you in your home, and is solely dedicated to caring for you – it's the ultimate one-to-one tailored care!
The reasons that people choose to have a live-in carer are also varied – it could be to provide some support and companionship. When clients have a large home, and would like to stay in it for as long as possible, having a carer that lives with them is a great option and makes economic sense. Live-in carers help both couples and individuals – and often they may bring a specific skill, for example to help recuperation from an injury, or they may specialise in dementia or complex care.
An overarching benefit of all domiciliary care services is that they focus on a person's individual needs and allow people to continue living their lives the way they want to. It's no surprise therefore that when a recent YouGov survey asked older adults for their preference between being supported at home or moving to a care home 9 out of 10 (92%) that they would prefer to stay at home should they need care in later life.
Home care services like those provided by The Homecare People in Wokingham allow you, and your family, the peace of mind needed to help you live well at home for as long as you'd like to.