10-day spectacular starts this week to bring colour, light and play to the city this February…
The time has come for the city to be filled with light, colour and surprises around every corner. It can only mean one thing, it's time for Bristol Light Festival.
Starting this Friday and running from 3rd – 12th February, the annual light spectacular will offer 10 days of captivating, interactive and immersive light installations that create a trail through Bristol city centre. From 5 – 10pm, 11 artworks from internationally acclaimed artists and the best of South West talent will come to life in different locations across the city, most of which have never been seen in Bristol, including some brand-new commissions.
The event is the perfect opportunity to spend a winter's evening exploring the city with friends, family and colleagues, enjoying countless food, drink and hospitality offerings along the way. Visitors are encouraged to plan for their visit, considering sustainable travel arrangements as well as places they may like to eat, drink or stay in the city. Bristol Light Festival offers practical tips and information about best times to visit with young children, suggested routes around the event, hotel offers and travel recommendations.
In celebration of this year's Bristol Light Festival, many city centre businesses have created special offers and one-off events for those visiting. Here are some of the exciting additional benefits and experiences visitors can enjoy as part of the festival.
Left Hand Giant Brewpub has created a limited edition 'Bright Beams' pale ale, brewed exclusively to celebrate Bristol Light Festival and the perfect light refreshment in between walking the light festival trail.
Extended opening hours for St Nicks Market include late night opening for both indoor and outdoor markets until 9pm on Saturday 4th and 11th February, allowing some late-night weekend browsing and shopping.
Hey Dude bar will have a special offer on Bristol Beer Factory's Laser Juice between 5-8pm across the festival duration.
St George's Bristol will be creating a Bristol Light Festival inspired cocktail 'The Lumen' which will be available at the venue's bar throughout the festival.
For those looking to carry on their evening after a visit to Bristol Light Festival, PRYZM Bristol has got you covered. Reach for the lasers at FIX Fridays: Laser Rave on Friday 10th February or on Saturday 11th Feb, LYFECODE Saturdays: All of the Lights will fill three rooms with music.
Whilst walking the Bristol Light Festival trail, look out for some of the city's most iconic and distinguished buildings as they are illuminated in celebration of the event, including Victoria Rooms, the Wills Memorial Building, Millennium Square, Bristol Hippodrome, Temple Meads train station, PRYZM and City Hall on the opening night.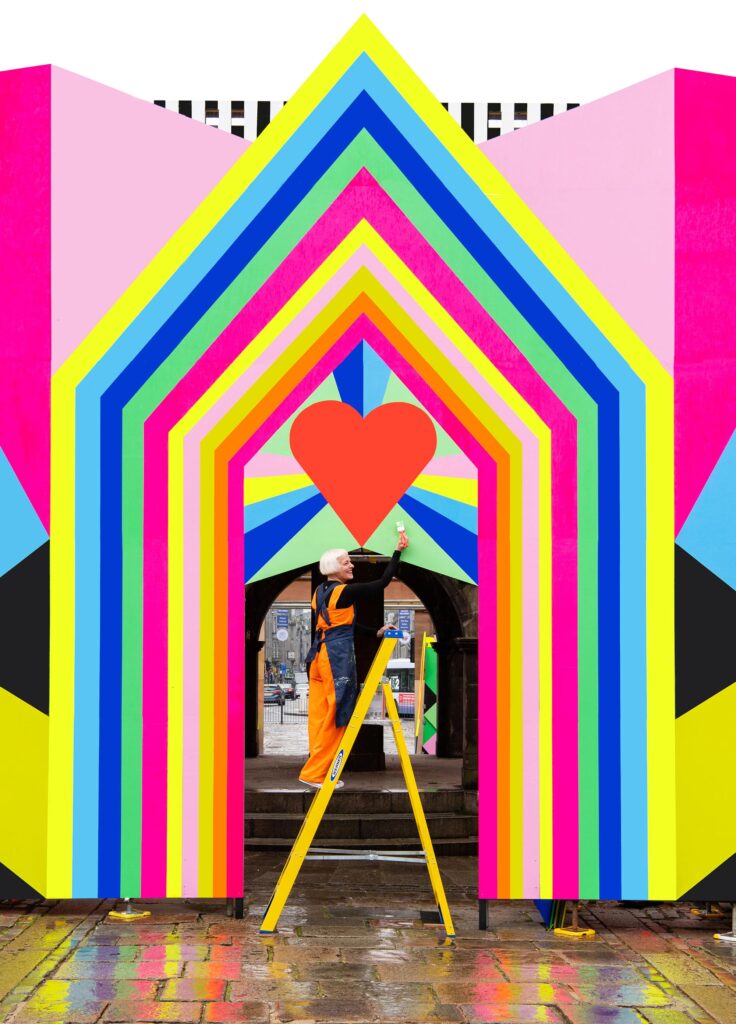 Vicky Lee, Head of Bristol City Centre BID said;
"Support from key partners across the city has enabled the event to grow and offer even more in 2023 with commissioned artworks, exciting new locations and a longer duration, making it a real city-wide event. The event embodies everything that Bristol represents and showcases it as the vibrant, playful and creative city that we know and love.
"We want to bring a sense of fun, togetherness, and joy to the city whilst encouraging visitors to explore Bristol at night, enjoying the centre's rich selection of night-time economy businesses along the way. We look forward to welcoming visitors to Bristol Light Festival to enjoy the city centre and all that it has to offer."
Councillor Craig Cheney, Deputy Mayor and Cabinet Member for Finance, Governance, Performance, and Culture, said:
"Having received national recognition in 2022, I'm sure this year's Bristol Light Festival will once again surprise and delight anyone taking the trail through our city centre, Old City and Harbourside. Running over two weekends, this year's festival will allow even more people to explore our city and enjoy more brilliant free light installations, produced by some of Bristol's talented creatives.
"Part funded by the ongoing City Centre and High Streets Recovery and Renewal programme, the increase in footfall will help support local businesses and remind people what the area has to offer. We look forward to announcing more events from the 2023 culture and events programme that will run throughout the spring and summer, building on the 75,000 visitors and £1.4 million additional spend that last year's programme attracted to our city centre."
Katherine Jewkes, Creative Director said;
"This year we are bringing some exciting artworks to the festival, all designed to surprise and delight people. There's something for everyone in this year's programme – many of the artworks this year are interactive, pieces like 'Scream the House Down', 'Halo', 'Trumpet Flowers' and returning favourite 'Swing Song' all encourage audiences to play – whether that is by screaming, tapping, dancing or swinging.
"There are more reflective experiences like Continuum, Sirens and Ophelia for audiences who want to slow down and take a quieter magical moment in the busy city, and there are lots of beautiful immersive spaces too with Morag Myerscough's 'Let us Shine', PYTCH's 'Beam' and 'Overheard in Bristol'.
"Visitors can take in each installation across one evening or come across multiple nights and really explore the city. We're so excited to fill Bristol with colour and light and for people to experience this year's event."
Bristol Light Festival is presented by Bristol City Centre Business Improvement District (BID) supported by Redcliffe & Temple BID, Broadmead BID and Cabot Circus. The festival is also supported by Bristol's City Centre & High Streets Recovery and Renewal programme, which is funded by Bristol City Council and the West of England's Combined Authority's Love our High Streets project, with the aim of supporting the recovery of Bristol's priority high streets. The festival is curated by Creative Director Katherine Jewkes.
Here's an overview of what you can see at this year's event:
'Let Us Shine'- Brand-new commission by Morag Myerscough
An absolute coup for the event is the bespoke commission of internationally acclaimed artist Morag Myerscough, whose strong visual approach is instantly recognisable. The brand-new piece has been created specifically for this year's event, being revealed for the first time this February.
Morag's brightly coloured, bold and eye-catching pieces have been displayed around the world and it is a real honour for Bristol Light Festival to have a bespoke piece created for the event. "Let us Shine" is a joyful celebration of colour, light and individuality. Open to visitors day or night, this pop up temple of colour shines for us all.
'Scream the House Down:Bristol' by Marcus Lyall
This interactive installation has both scale and wonder and has been created by internationally renowned artist Marcus Lyall. Marcus is known for experimental film and interactive moving-image projects, including award-winning stage visuals for The Chemical Brothers, a Metallica feature film, and artworks that have been shown around the world. His involvement with Bristol Light Festival establishes the event as one not to be missed in 2023.
This large-scale light installation is activated by people's voices to illuminate a whole building according to the sound. Taking centre stage at The Corn Exchange, this piece will offer the chance for visitors to the festival to light up a building as this monumental light installation illuminates in response to their voice. The louder and longer the outburst, the bigger the response from the building. The light installation interprets every voice and scream differently, to create a unique response for each person and has been adapted for Bristol Light Festival 2023 from a socially distanced version of the installation made for Illuminate Productions during lockdown.
'Ophelia' by Davy & Kristin McGuire
A show stopping addition to this year's Bristol Light Festival is 'Ophelia', a stunning light installation that creates a life-size hologram of Shakespeare's famous character. The installation references Millais' famous painting of the drowning Ophelia, recreating the scene with intense colour, gentle movement, air bubbles and swimming fish, this piece is emotive and mesmerising.
Set in the stunning surroundings of St Mary Redcliffe Church, visitors to the festival will be able to have a rare opportunity to enter this historic venue at night and view 'Ophelia' – an experience that is sure to give goose bumps!
'Sirens' by Davy & Kristin McGuire, Studio McGuire
Supernatural creatures and mysterious mermaids are visiting Bristol's Harbourside this festival as it is transformed by holographic projections to create a magical underwater world. Created by Award-winning Studio McGuire, 'Sirens' explores the impact of climate change – even fairy-tale creatures could be affected by the climate crisis.
Davy and Kristin McGuire are residents of Bristol's Pervasive Media Studio, located on Bristol's harbourside. Having been residents for many years, it will be special to showcase 'Sirens' so close to their creative hub.
'Halo' by illumaphonium
Bringing fun and playfulness to the festival, 'Halo' is a dynamic, interactive installation that lights up and plays music in response to touch. Created as a series of towers that feature illuminated 'halos', visitors can enjoy a sensory experience making music and an ever-evolving pattern of light as they interact with the piece. This installation will be at the Podium in Broadmead and is perfect for families and little ones to enjoy, bringing a smile to faces as spectators watch the installation come to life.
illumaphonium is a duo of artists based in the South West that specialise in large scale interactive installations transforming public spaces into a place for music and discovery. The installation is guaranteed to capture the imagination of all ages.
'Continuum' by illumaphonium
'Continuum' is a fun, captivating installation that invites visitors to walk between 25 mirrored monoliths, exploring a maze of reflection and light, bathing in the historic reflections of Temple Church. This interactive piece will capture the imagination of all ages as they walk around, through and amongst the mirrored pillars with family and friends.
'Trumpet Flowers' by Amigo & Amigo
Feel like you are shrinking as you approach these super-sized trumpet flowers and tentatively step inside some unseen Giant's musical garden, becoming surrounded by an explosive and immersive jungle of light, colour and sound. Moving in and around the flower forest, interactive keys allow visitors to play each flower as a 2-6m towering musical and light instrument.
Located at Quakers Friars in Cabot Circus, 'Trumpet Flowers' will surprise and delight as visitors make a spectacular floral symphony of sound and light or catch one of the scheduled animated musical scores throughout the evening. Inspired by vintage gramophones, the installation will periodically burst to life and play its own commissioned musical score.
Created by Sydney-based design studio Amigo & Amigo and with a piece composed and played by Otis Studio together with some of Sydney's finest jazz musicians, visitors will experience a beautiful and colourful wave of floral jazz.
'Beam' by PYTCH
A new artwork will be designed by Bristol-based creatives PYTCH and feature at Castle Bridge. 'Beam' uses lasers and haze to create a beautiful, ever-changing light sculpture that offers different viewing dimensions.
Visitors can become fully immersed as they cross the bridge, enveloped in haze whilst looking up at the lasers crossing in the air above as ambient music forms part of the experience. It can also be viewed from afar to enjoy the harbourside illuminated and the impressive lasers meeting and crossing in the air above the bridge.
Swing Song returns in 2023
A star of last year's Bristol Light Festival, 'Swing Song' will return in 2023, bringing childhood fun and playfulness to those that hop on. A hit with families and friends visiting the festival, visitors can relive their playground memories as they swing back and forth on the light-up, musical swings, remembering how it feels to be a child!
Little ones can also experience swings with a difference as they watch the colours change and hear the music play whilst swinging their legs high into the air. Music and light will be triggered by the swinging motion and play in sync with one another. The piece is powered by cutting-edge technology and will be a joyful way to play in the city, created by Tired Industries.
Overheard in Bristol
Previous commissions of iconic Bristolian phrases will form part of this year's content with 'Alright My Luvver' in Queen Square and 'Cheers Drive' which is permanently installed in Bristol Bus and Coach Station. Each installation makes the perfect selfie spot for any true Bristolian.
For more information, a map of the installations and locations, and updates about the event, please visit www.bristollightfestival.org and follow us on Instagram @Bristol_Light_Fest, Twitter @Bristol_Light, Facebook and using the hashtag #BristolLightFestival