Fairly traded and ethically sourced baking brand Food Thoughts has collaborated with Luce Hosier (@whatluceeats) to share four delicious new chocolate recipes...
From sweet bakes and breakfast ideas to savoury mealtime inspiration, each recipe uses Food Thoughts organic cocoa and cacao powders and dark and white chocolate chips. Made using 'fino de aroma' cocoa beans, a flavour standard awarded by the International Cocoa Organization (ICO) to just 8% of cocoa beans worldwide, by using Food Thoughts products you can be sure of an intense flavour in every bite.
Try the Chocolate French Toast for an indulgent start to the day, or a moreish Hazelnut and White Chocolate Biscotti with your favourite hot drink and share the mouth-wateringly rich Chocolate and Peanut Butter Tart with friends and family for a sweet treat.
To discover the deeper and richer flavour that cocoa powder can add to savoury dishes, try the Vegan Bean & Butternut Squash Chilli.
So, give these recipes a go to discover the great flavour Food Thoughts' range of cocoa and cacao powders and chocolate chips can add to sweet and savoury recipes!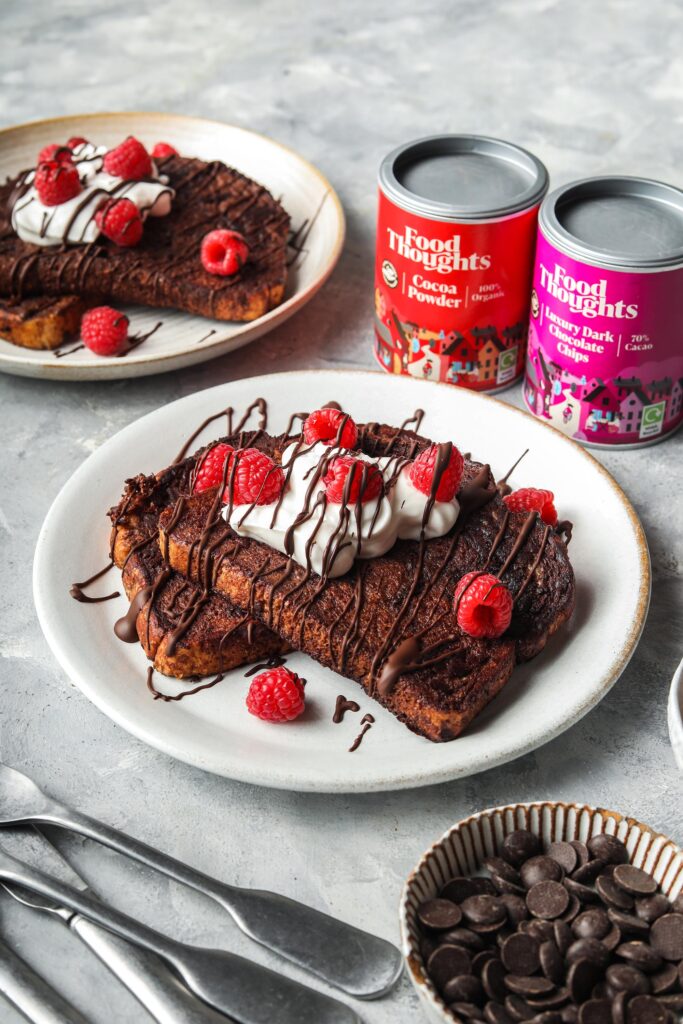 Cocoa French Toast
Servings: 2
Ingredients
20g ground flaxseed
260ml milk (or dairy free alternative)
1 tablespoon vanilla extract
45ml maple syrup
25g Food Thoughts cocoa powder
2 teaspoons butter (or dairy free alternative)
4 slices of white bread
40g Food Thoughts dark chocolate chips
Coconut yoghurt to serve
Fresh raspberries to serve
Method
In a large shallow dish add the flaxseed, milk, vanilla extract, maple syrup and cocoa powder. Combine with a whisk. This may take a few minutes until the powder is fully combined.
Next heat a large non-stick pan on a medium heat and add 1 teaspoon of butter. Whilst it melts take a slice of bread and submerge it into the cocoa liquid. Turn it over to coat the other side then take it out of the liquid.
Allow any excess liquid to slide off and then place it into the pan. Repeat with another slice and place in the same pan.
After a few minutes use a spatula to carefully flip the slices over to cook on the other side for the same amount of time.
Repeat with the remaining teaspoon of butter and 2 slices before plating up.
Melt the dark chocolate chips in the microwave in 30 second increments and then add some coconut yoghurt to the toast, then fresh raspberries and drizzle over the melted chocolate to finish.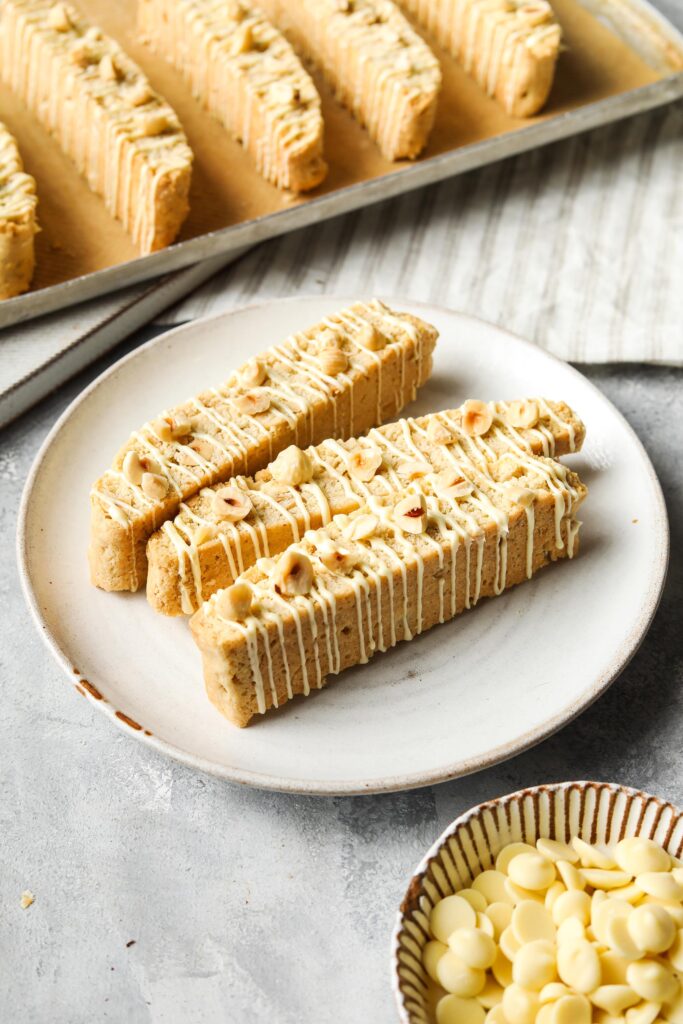 Hazelnut and White Chocolate Biscotti
Cook time: 30 minutes
Servings: 10
Ingredients
160g blanched hazelnuts
80g chilled butter (or dairy free alternative)
140g caster sugar
1 teaspoon vanilla extract
60ml milk (or dairy free alternative)
220g plain flour
1/2 teaspoon baking powder
80g Food Thoughts White Chocolate Chips
Method
Begin by preheating the oven to 180c. Scatter the hazelnuts onto a baking tray and place them into the oven to toast for 10 minutes.
Keep the oven on and allow the hazelnuts to cool for a few minutes before placing 60g of them into a blender. Blend until fine crumbs form. Roughly chop the remaining 100g.
Next in a large bowl add the butter and sugar and cream together with a hand or electric whisk. Add the vanilla extract and milk and whisk again until combined.
Add the ground hazelnuts, flour and baking powder and combine before folding through the chopped hazelnuts, The mixture should have come together to form a dough.
Line a baking tray with parchment paper and place the dough onto it. Use your hands to form it into a long log that is pretty much the length of the tray.
Bake in the oven for 20 minutes before leaving to cool. Then slice into biscotti and place back into the oven for 8 minutes. Turn them over and bake for a further 8 minutes.
Melt the white chocolate chips in 30 second increments stirring each time until the chips are completely melted. Pour the melted chocolate into a piping bag or simply use a spoon to drizzle white chocolate over all the biscotti. Top with any leftover chopped hazelnuts.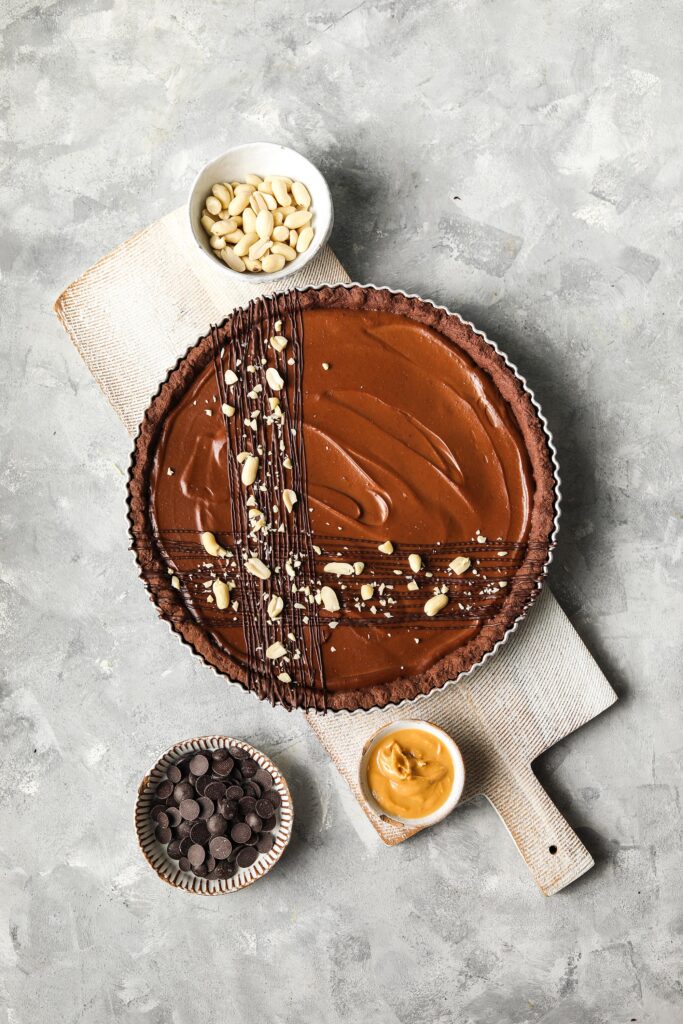 Chocolate and Peanut Butter Tart
Cook time: 25 minutes
Servings 8
Ingredients
For the base
150g butter (or dairy free alternative)
230g plain flour
45g Food Thoughts cacao powder
40g caster sugar
45ml ice cold water
For bottom filling layer
4 tablespoons smooth peanut butter
For top filling layer
150g smooth peanut butter
240ml single cream (or dairy free alternative) (at room temperature)
130g Food Thoughts dark chocolate chips
To decorate
50g Food Thoughts dark chocolate chips
Handful of crushed peanuts
Method
Begin by preheating the oven to 180c and greasing a tart tin.
In a blender add the butter, flour, cacao powder and caster sugar. Blend for a few seconds until a crumb like mixture forms.
Next add the cold water and blend until the mixture comes together into a ball of dough in the blender. Empty it into the tart tin and flatten into the base and up the sides until the tin is completely covered.
Use a fork to make a few holes in the base and then place the tin into the oven for 14 minutes.
Allow to cool for 10 minutes before spreading the peanut butter over the bottom of the base.
For the top filling layer melt the dark chocolate chips in 30 seconds increments until melted and then combine with the room temperature cream and peanut butter until smooth. Pour on top of the peanut butter layer.
Place the tart into the fridge to set for a minimum of 1 hour. Overnight is fine too.
Melt the 50g dark chocolate chips to decorate and finish by adding some crushed peanuts.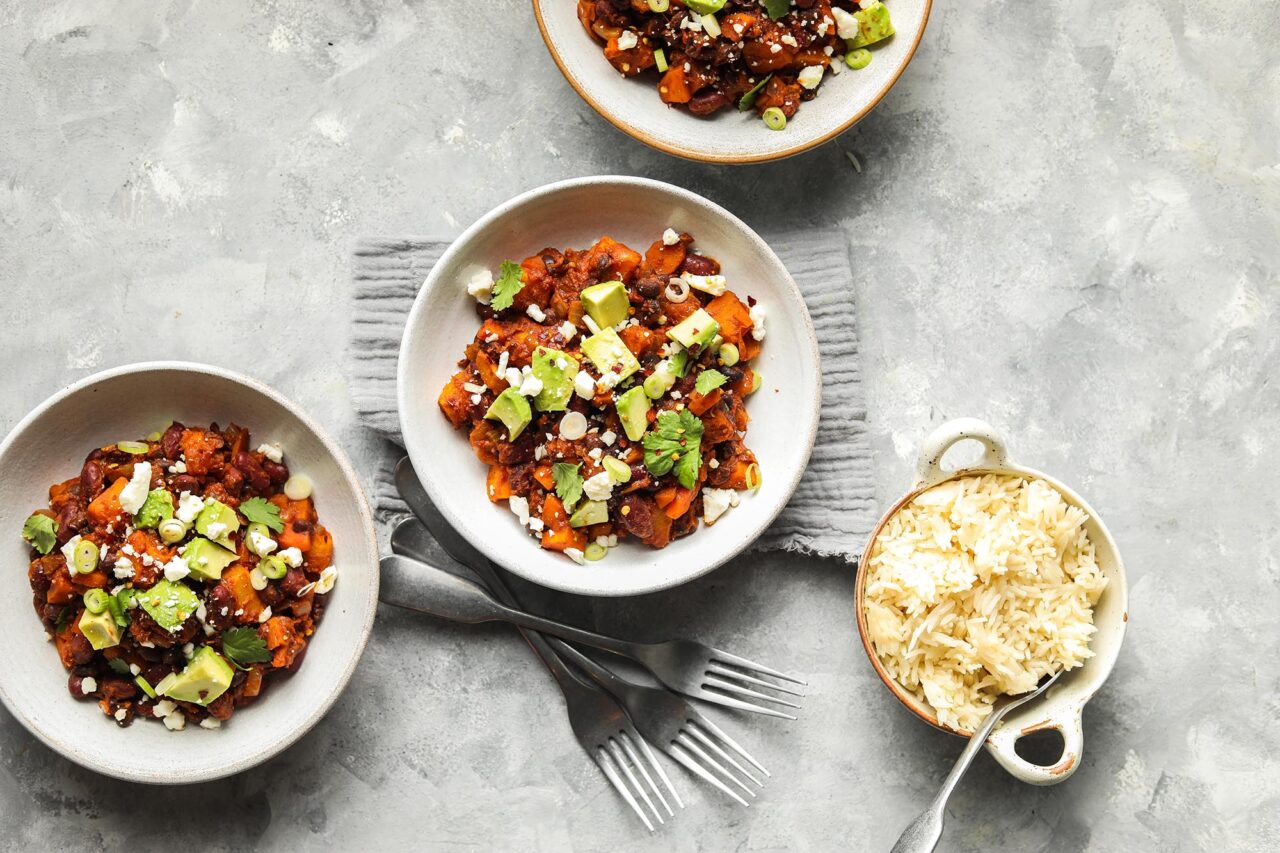 Vegan Bean Chilli
Cook time: 45 minutes
Servings: 4
Ingredients
2 tablespoons extra-virgin olive oil
400g butternut squash (cut into small chunks)
1 white onion (finely diced)
1 medium carrot (peeled and diced)
40g celery (diced)
2 garlic cloves (minced)
1 teaspoon smoked paprika
1 teaspoon mild chilli powder
1/2 teaspoon dried oregano
1/2 teaspoon ground cumin
1 teaspoon tomato puree
1 can red kidney beans (drained and rinsed)
1 can black beans (drained and rinsed)
1 can of chopped tomatoes
1/2 teaspoon salt
1 teaspoon Food Thoughts cocoa powder
To serve:
Basmati rice
Crumbled feta (dairy free if required)
Avocado
Spring onion
Fresh coriander
Method
Begin by preheating the oven to 180c and scattering the butternut squash
chunks onto a baking tray. Drizzle with 1 tablespoon oil, season with salt and
place into the oven for 25 minutes.
Meanwhile heat a large pan on a medium heat and add the other tablespoon of
oil along with the diced onion, carrot and celery.
Cook for 8 minutes stirring frequently before adding the garlic, smoked paprika,
chilli powder, oregano, cumin and tomato puree.
Combine ensuring the veg is evenly coated in the spices before adding the
kidney and black beans, chopped tomatoes, salt and then cocoa powder.
Allow to simmer stirring often before stirring through the roasted butternut
squash chunks. Add 2 tablespoons of water to loosen the chilli before
simmering for a further 5 minutes.
Serve with rice, crumbled feta, avocado chunks, sliced spring onions and
coriander. Enjoy.