Drawn From The Land is an exhibition of fine art, weaves and photograph, that will feature at The Light Room in Alresford from 19th – 26th September…
Nick McMillen was at his gigantic drawing board by the window, dabbing intricate charcoal detail onto a harrowing ash hedgerow, when we met in his Hampshire studio some years ago. He was my client. I was there, eager to photograph him and his effervescent wife, Molly, both hard at work — a beautifully introverted artist and craftsman and a celebrated willow weaver and fibre artist.
I marvelled at Nick's exquisite and painstakingly detailed botanical illustrations and at Mollie's lampshades and baskets, woven from sustainably harvested, local plant fibres, bark and willow. I loved learning about their art. We discovered that we shared a twisted sense of humour and a deep respect for nature – which is how this trinity of artists and upcoming exhibition of fine art were born.
"We pass by things all the time," Nick told me when talking about his lichen and seedpod art works. He literally draws from the land and his botanical illustrations honour his subject matter through his hyper-attention to detail. "I want to preserve those moments of open-mouthed astonishment that exist in nature," he said as I viewed a drawing of a chestnut tree in decline, breaking itself apart with its own weight and age.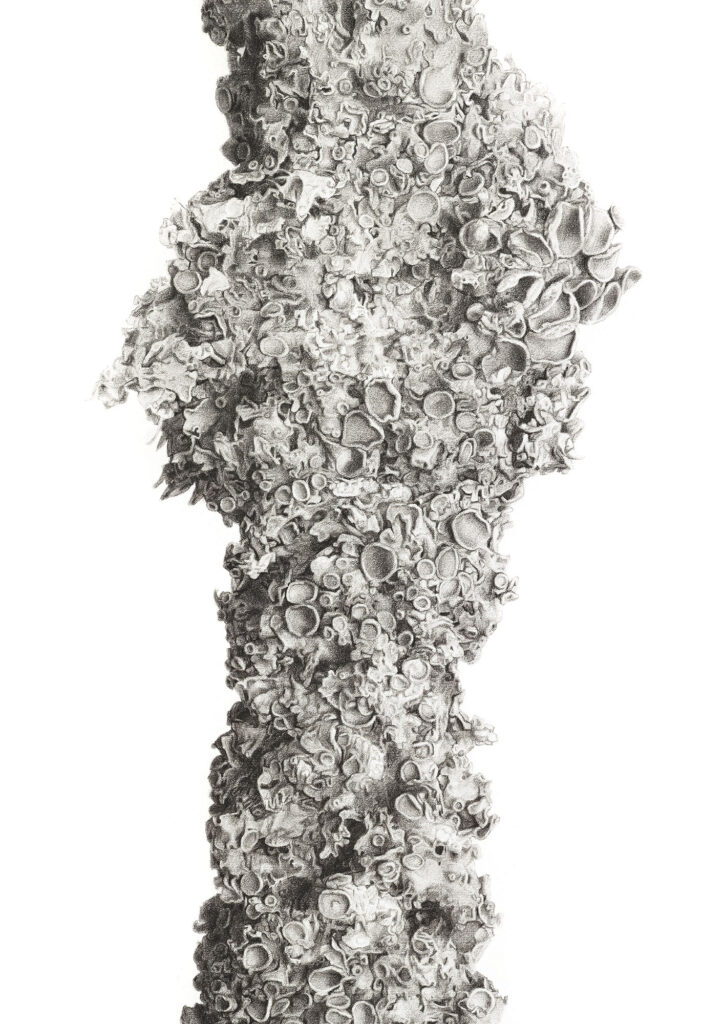 Our exhibition is a gentle invitation for people to be curious about nature. Sir David Attenborough said that "no one will protect what they don't care about, and no one will care about what they have never experienced." With this in mind, when you drop into the Lightroom in Alresford to see the exhibition, you can experience art fostered from a place of inquisitiveness and deep respect. If it sparks interest or encourages you to notice something new, that would be the greatest compliment.
For Mollie, her creative expression is about the reciprocity of caring for the Earth. "This exhibition is an artistic response to what we have been doing for almost two decades," she said. Sixteen years ago, in a moody forest not far from Alresford, she first laid eyes on her future husband, Nick. They met on a course about living in harmony with the land. Having known them for years, I can affirm that this talented duo lives this way with integrity and sincerity.
Mollie's hand-harvested materials are sensitively drawn from the land in her local area in Hampshire. Her year is punctuated by the tree bark harvest in spring, plant fibres in mid-summer and the willow harvest in winter. She nurtures relationships with community members and the environment; her intention being to improve the land, garden or hedgerows while producing beautiful woven pieces from what might have become compost or ash.
At the exhibition, you'll see my work too. I'm Heather Chuter, a fine-art photographer and portrait maker. I have a keen interest in connecting with people. My love of fellow artists and the interesting lives they lead fuels a lot of my work. Many hours spent observing other artists compelled me to turn my lens to create my own interpretations of the communication and spirituality playfully existing between the living natural world and the elements. I created etherial landscapes, brimming with life and energy using double exposures, found objects in the environment and digital layering.
We hope you will be surprised, delighted and curious at Drawn from the Land – an exhibition of fine art at The Light Room in Alresford S024 9BQ. 19th to 26th September 2022. 
Private View on Tuesday 20th at 7pm with talks from the artists, drinks and nibbles.
For private view or inquiries: