Playwright Willy Russell took time out to chat about a new production of Educating Rita, coming to The Capitol Horsham this Autumn…
It is 40 years since award-winning playwright Willy Russell wrote Educating Rita – it remains one of his best loved works, regularly performed around the world.
And now a major new production of the play will tour the UK starring Stephen Tompkinson as frustrated university professor Frank, opposite Jessica Johnson as Rita, his hairdresser student so desperate to learn.
For Willy, 40 years on, it's a time for reflection on the success of his play. "When will I ever be free of it?" he jokes.
Willy says he thinks of the play with great affection – not least because of the success of that original 1980 production at the Warehouse Theatre (now Donmar Warehouse) where Julie Walters first played the role of Rita opposite Mark Kingston as Frank.
The success of the play was followed by the hit 1983 movie starring Michael Caine and Walters reprising her role as Rita which won huge acclaim, winning BAFTAs, Golden Globes and Oscar nominations.
Willy will be there through the rehearsal process – "I'm involved as I would be in any significant new production," he says.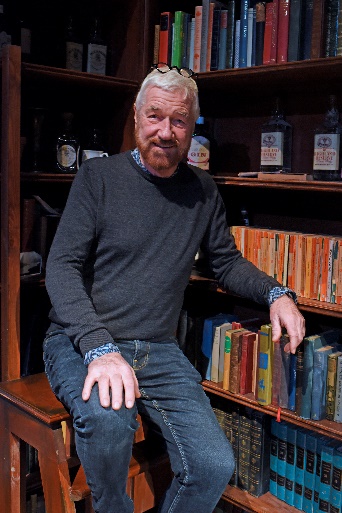 The play tells the story of married hairdresser Rita who enrols on an Open University course to expand her horizons. But in her university tutor Frank she finds a frustrated but brilliant academic, a little too fond of a drink, who is initially less than enthusiastic to teach Rita. The two soon realise they have much to learn from each other.
Willy says: "There have been productions that have tried to set it in a contemporary setting, but the difference between education today and 1979 is so vast it doesn't do the play any favours to make it a contemporary tale.
"The idea then of working class people returning to education was in the air, it was a new and vibrant thing, and the collision of those worlds, of the non-educated and the rather elite red brick university, was a massive collision, but all of that has gone now.
And Willy to this day still receives letters and messages from those who felt inspired by Rita to learn after watching the play or the film.
The new production will see actress Jessica Johnson take on the role of Rita – after her acclaimed run in the role in Rebecca Frecknell's 2017 production at Durham's Gala Theatre.
In that, she played the role with a North East accent – but she will be a Liverpudlian Rita to star opposite Tompkinson in the new production.
Willy is looking forward to see Stephen Tompkinson take on the role of Frank. "I've long admired him as an actor," he says.
"Frank is a role which has a humour to it but has a real pain as well. I can't think of anyone more equipped to delving into both of those elements than Stephen."
Educating Rita will be at The Capitol Horsham from Tuesday 7 – Saturday September 2021.
Tickets can be booked online at www.thecapitolhorsham.com or calling The Capitol Box Office on 01403 750220.