h.Art is a not to be missed annual early Autumn treat…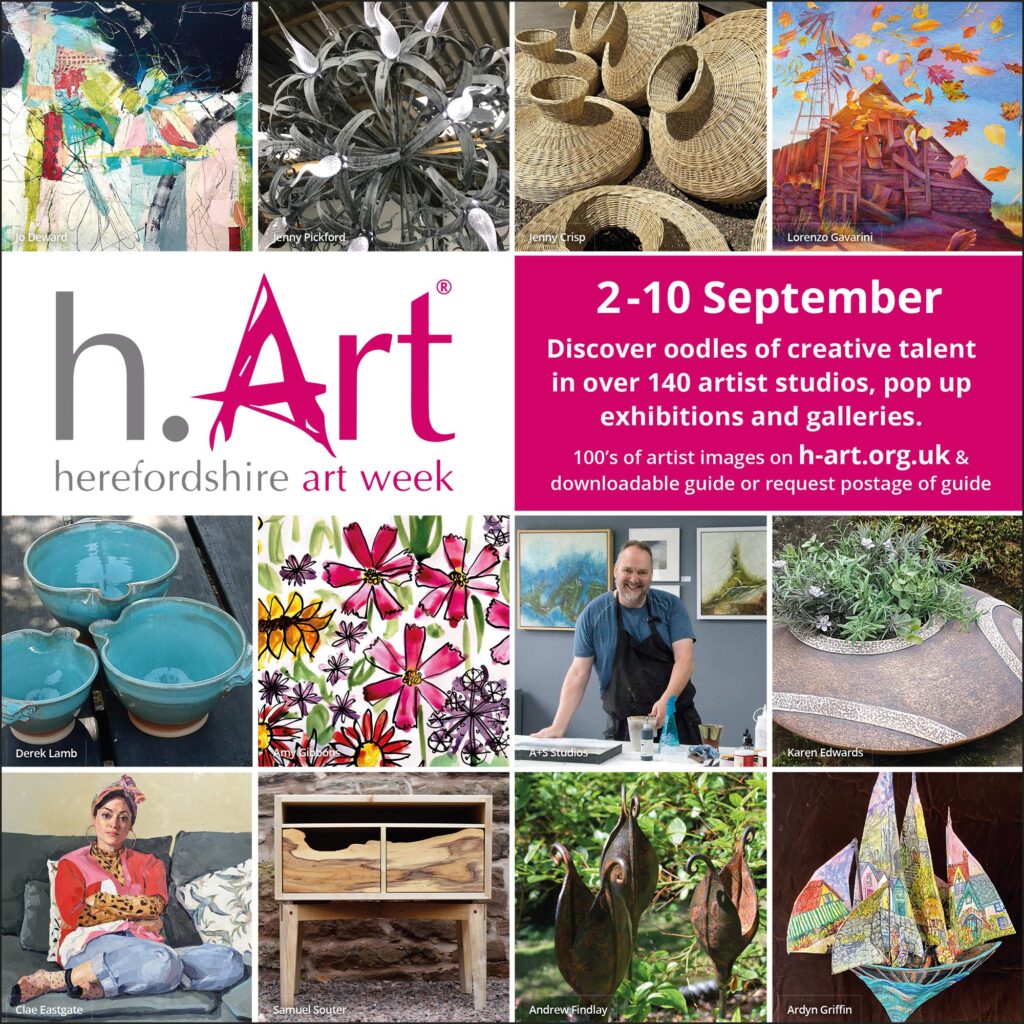 Meet a myriad of creative people showing you their creations across a huge range of mediums and art and design disciplines. Meet over four hundred artists in their workshops, home studios, sheds, galleries and lots of art in temporary, unusual non art places.
Many artists only open their work spaces once a year, giving you a rare insight into their creative lives and their individual practice. You can chat, just browse, buy or commission direct. 9 days of joyful inspiration, unique finds and the chance to buy from the artist… or discuss something bespoke, for someone really special.
There are over 140 venues and nearly all open every day between 11am – 5pm, between 2 – 10 September www.h-art.org.uk–The website is live all year and keeps you up to date with your newly discovered favourite artists. Every artist has an Artist Profile page, which includes their contact details, information about their practice and images they regularly renew. Search via ALL VENUES on site.
There is a downloadable guide on the site, or you can subscribe for a posted guide for £2. FREE Guides can be picked up around the Herefordshire and bordering counties in large supermarkets, tourist info sites and tourist attractions from late July.
https://www.facebook.com/HerefordshireArtWeek
https://www.instagram.com/herefordshireartweek/
ARTIST PROFILES
Helen Munday
h.Art Emerging Artist Bursary Winner
You can find Helen at h.Art Venue 10 and 130
Helen Munday is an artist basket maker, her work takes two directions; one making functional basketry, honing traditional techniques and skills to create beautiful receptacles for storage, carrying. The other, making sculptural pieces in response to lots of different stimuli, for example 'Chaos' made in response to the current 'political mess'. It's very important to Helen's creativity to have a circular, sustainable ethos, using natural materials such as willow, grown or gathered by herself.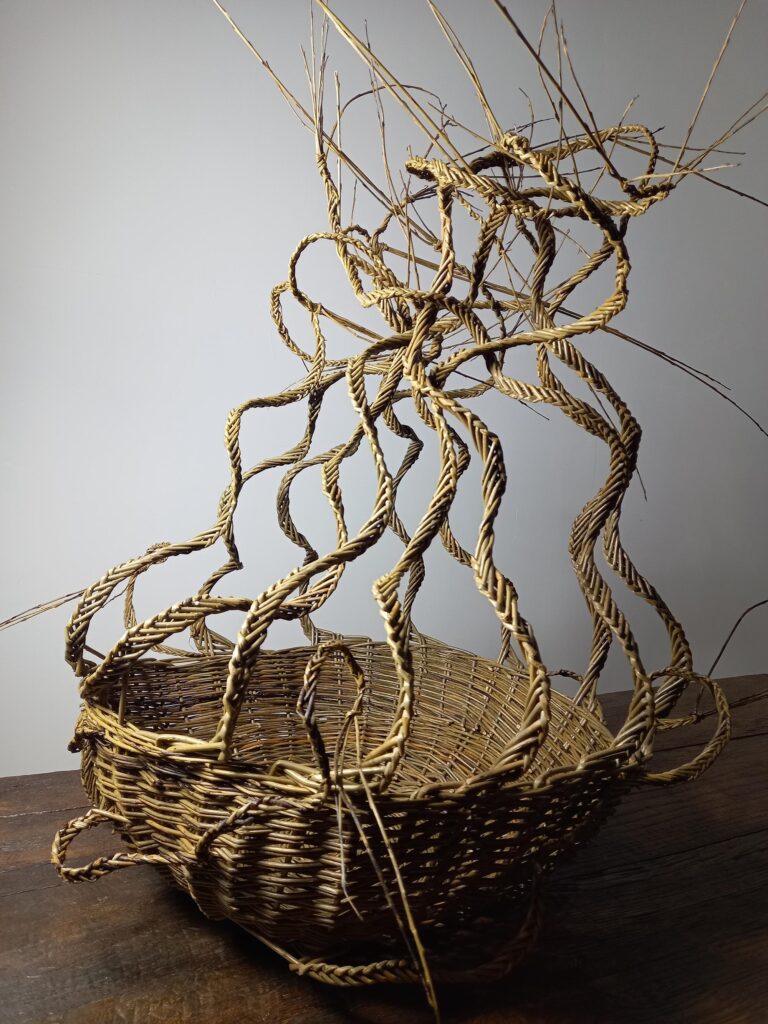 "I live close to the land embracing the seasons within my practice, being close to nature in my off-grid self-converted truck, my lifestyle focuses on minimal waste and making use of what's to hand."

Since graduating with a 1st Class BA hons in Contemporary Design Crafts from Hereford College of Arts last year, Helen has been successful in being 'picked up' by several notable galleries. At the New Designers show she was asked to be part of The Scottish Gallery's 'Rising Stars' exhibition Edinburgh in March, where she sold some of her pieces. You can find her work at New Ashgate Gallery in Farnham until 22nd April. She has a permanent studio/shop at Warehouse 701, Fordshill Road, Hereford where she has much of her work for sale. Read on to see where else she is due to be showing soon.
You can find Helen at:
www.wondersofwillow.co.uk
www.h-art.org.uk/explore/artist/helen-munday
https://hellensmanor.com/events/
Effie Williams
h.ArtEmerging Artist Bursary Winner
You can find Effie at h.Art Venue 34
Effie Williams h.Art Emerging Artist Bursary Winner is a young milliner with an "old soul", as she describes herself, hermain inspiration is the iconic fashion and culture of the 40's, 50's and 60's. Effie's studio/workshop is a treasure trove of her eclectic vintage finds; an old record player; 60's furniture and fabrics the backdrop for her hat inventions, which all feel appropriate for this endangered craft.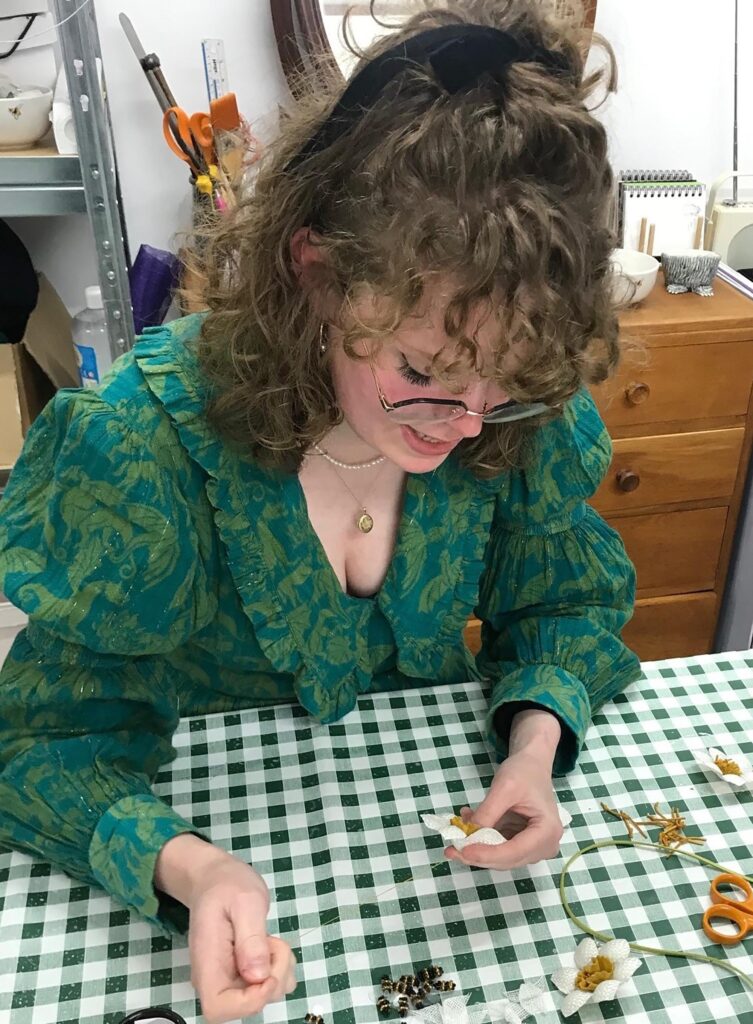 Born and bred in Pencombe, where her family have farmed for generations. She found her passion for nature and making early, which led her down a fashion, costume making route at first, followed by an Arts Foundation Course, but then she discovered millinery. She trained with Marina Matthews and won several Millinery awards in the process. Effie continues to build on her skills, learning through old books on millinery techniques and trial and error.
"Exhibiting at hArt will allow my work to be introduced to a new audience, allowing me to gain new networking possibilities, as well as to new clients, and also I have recently moved studios, it will be lovely to introduce people to the little-known world of millinery and hopefully show that this heritage craft is no longer just the fluffy feather fascinators or big outdated hats so many first think of".

You can find Effie at www.effiewilliams.co.uk
https://www.h-art.org.uk/explore/artist/effie-williams