Known to millions as The Yorkshire Shepherdess, Amanda Owen is the author of five best-selling books about her life on Ravenseat ,one of the most remote farms in the country, where she lives with her husband Clive and nine children. She currently stars in Channel 5's popular TV show Our Yorkshire Farm and her latest book is Celebrating the Seasons includes stories, recipes and photos from the farm and is out now...
I understand that you had had no previous links to farming, may I ask how you became so involved in this line of work?
I grew up in Huddersfield and no one in my family is from a farming background. I loved the James Herriot books when I was a child, and watched the TV series. Because of James Herriot I loved the idea of being a vet, probably like most other children of that era, but was told at school that I was not academic enough to make the grades. One day in the school library I picked up a book called Hill Shepherd. It was a photographic documentary of hill farming in Yorkshire and Cumbria. Reading that book was an epiphany for me, the pictures of the hill shepherds on the moors with the sheep made me realise it was where I wanted to be. It ticked the box of wanting to work with animals in the countryside and importantly it also ticked the rebellion box as it was so the opposite of my townie life up until then. Years later after I had married my husband Clive, we realised that there was actually a photograph of him in Hill Shepherd! So it's a very important book to me.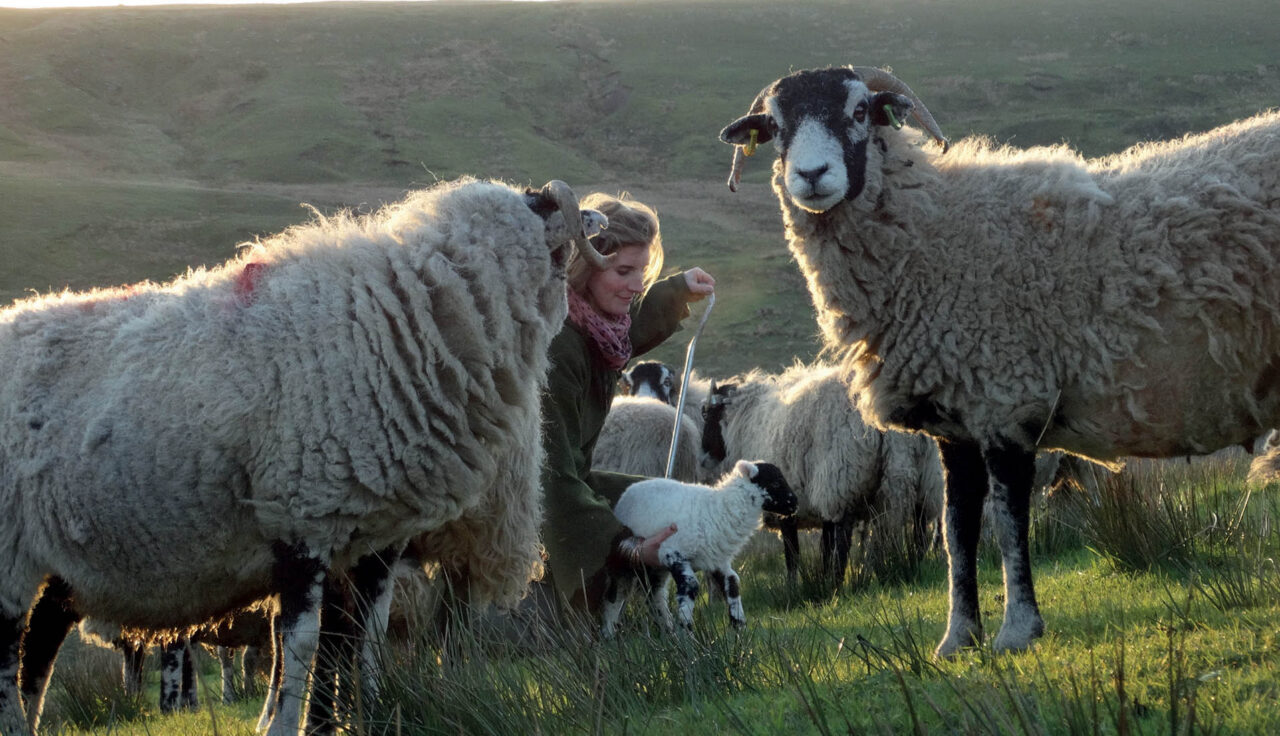 How did you learn your crafts?
One of the many things I learnt from your book was how important it is to get the grass in – in good time.
I started out as a farm hand, and then moved on to being a contract shepherd, working on different farms all over the country. But really, I learnt everything as I went along. Most of my crafts came through natural progression, learning to ride a horse by riding it, learning to clip a sheep by clipping my first one, learning to work a dog, by taking the dog out with me for the first time.
You can only learn what to do by doing it, you have to get practical on the ground experience. Nothing comes close to learning how to be a shepherd, other than actually doing the work of a shepherd and it's not just about learning about sheep, it's about learning about the land.
With the grass it starts with the sheep. You've got to have your sheep in good order – we grow hardy stock through the winter, so it's absolutely vital that you grow your crop well, so they have food to eat throughout the winter.
You enjoy sheep shearing – were you nervous when you cut your first fleece?
Of course, but you know, you have to be nervous in order to be any good at what you're doing. If you're lambing sheep you are dealing with nature first hand, but there is no room for you to have time to be nervous as you have to get on with the job. It's you alone in that moment and it's not optional to be nervous. That pressure makes you work fast.
The first time I clipped, I would clip the sheep while the professional shearers were having their dinner, and they would encourage me or discourage me depending on what I was doing, and then the more you do it you get faster. You keep practicing and eventually you will get there.
How do you spread yourself between 9 children – it must quite a noisy household at times?
It is a noisy household. But we're very privileged to live where we do which means that there's plenty of room for everybody to get some space outside. I enjoy the busyness and noise of family life in the house. But I can get away from it by walking out my front door. Plenty of people can't as they leave their front door and if they live in a city, it's still loud and busy when they get out. We're lucky here to have the wide open spaces and the kids spend a lot of time outdoors. We're working farm and that means that everyone mucks in – no matter what
the age, it could be collecting hen's eggs, feeding the horses, or helping find uniforms for everyone, also cooking. Real dough is just as good as playdough and the kids love learning to cook. The only time when we all come together is tea time at the farm, when we all come together to eat, it's my favourite time of day, when I get to hear what everyone's been up to on the farm and school.
Your children must have a wonderful time and appear to have no fears with any of the animals. Do they each have a special one?
I suppose they do. Quite a lot of the girls loves the horses. Violet loves the cows, she was excited recently that our pet cow, Ciara has now come in from the fields. Violet hand reared Ciara from a calf, so she thinks she belongs inside the house and doesn't like the other cows. Miles is very taken with the hens and his flock of 30 sheep. Through the winter and up to lambing time Miles looks after his flock of sheep after school. Sidney has his own dog, Nell a sheep dog and she runs for him, so that's quite a big thing for a young lad to be able to work his own sheep dog. It's a level up from being a pet. The terriers are wonderful they are real characters, they are source of frustration as they will have fights with each other, or they wander off from the farm to the local pub quite a few miles away! The terriers, are Chalky and Sprout, sadly we lost Pippin at the beginning of lock down. Tony the pony (pictured above right) is loved by Annas, Clemmie and Nancy, they look after him, feed him, brush him and ride him. They also love the bigger horses Josie and Princess. Princess is very good with the kids and often two of them ride her around the fields. They also like to take the horses down to the river and give them a bath and wash and comb their tails.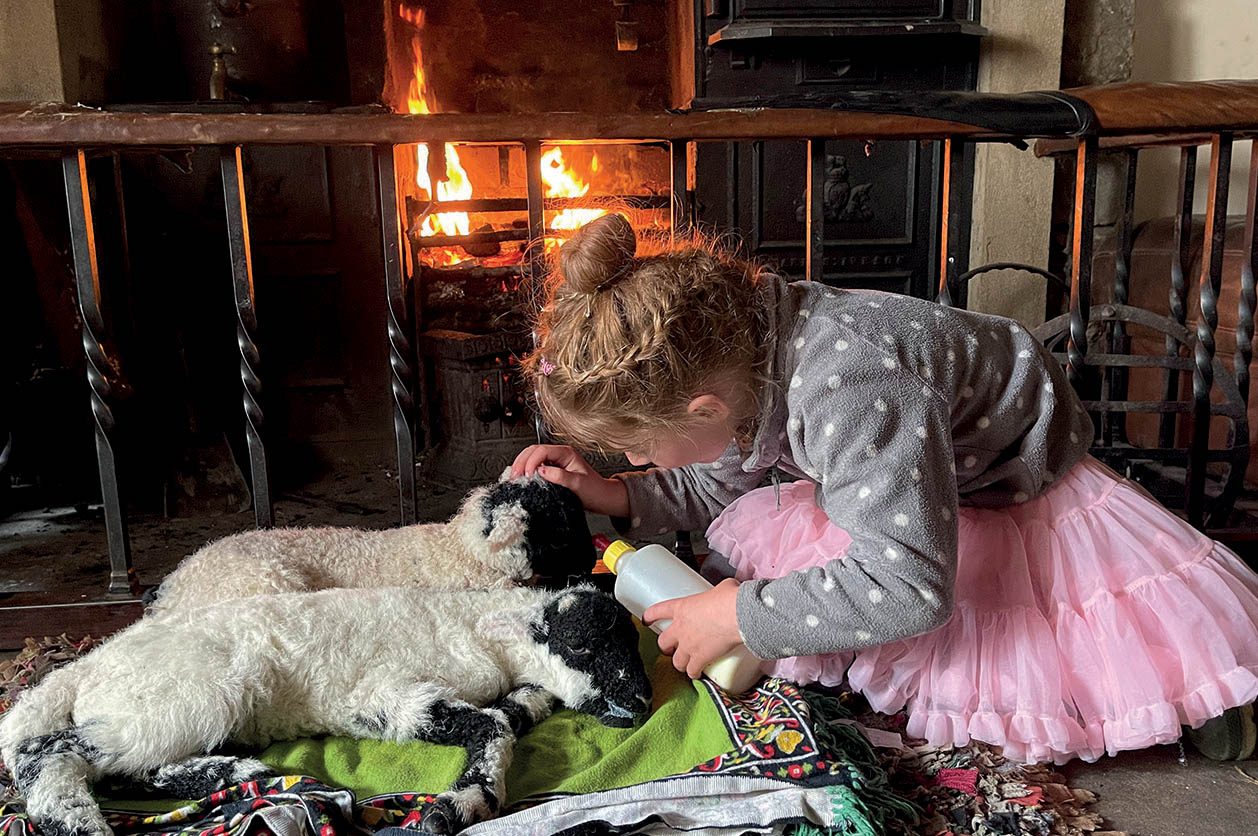 Will any of them follow in your footsteps?
Yeah, I think so, at the moment Miles and Sidney are very keen on farming and Edith is a good shepherdess. That said I never place any expectation on any of them to follow me into being a farmer and a shepherd. You don't know where life will take you. I'm not sitting here going: "I want you to be a shepherd", because life goes through stages, and what you want to do changes, so I'd rather they make their own choices, they can do whatever they want to do. It's a difficult thing to ask a child what they want to do with the rest of their life. They'll figure it out as they go along.
What is your favourite season and why?
Summer. But really I mean June. June is my favourite month, because all the sheep have had lambs and been turned back out onto the moor and it's before hay time and clipping, so there's a lull and a pause in the farm work, and at the same time everything comes to life – the flowers, the birds on the moor. In June, the Curlews are back, as are the Lapwings, Golden Plover, Black Grouse. All you can hear is birds, wherever you're walking. There are woodcock and snipe too – they are all ground nesting birds up here on the moor, so you get to see their nests as well – and it's just beautiful. The flowers you see in June are marsh marigolds, globe flowers, all the hay meadow flowers, rare orchids – it's really pretty.
What made you decide to write this book? It is a delightful read and the recipes are a treat!
Celebrating the Seasons, came about because I wanted to answer some of the most frequently ask questions, how do you cater for such a big family? Tell us about the practicalities? What do you cook? It was really difficult selecting recipes for the book. I wanted to include forgiving recipes. Recipes that it was totally fine to get distracted in the middle of and would still turn out good. Recipes that were achievable with the most basic of ingredients, simple feel good food, that was nutritionally good too. My absolute favourite is the Tagine recipe, it's a people pleaser, for me its so easy and the smell always brings everyone to the kitchen – which is helpful! Every time I cook it it's different, sometimes chick peas, sometimes wild rice, some times couscous – it always comes out slightly different each time. In addition to the recipes, people have told me they loved my photos and images of the farm that I post on twitter and would always suggest I do a photograph book. If you go back to basics it was a photography book – Hill Shepherd – that inspired me to become a shepherd. So it's nice to go full circle. I know how inspiring a photography book can be – how it can really steer you and how a picture can tell a thousand words. I really hope that when people buy the book, that they look at the pictures over and over again and still find something new in them, as I have with Hill Shepherd.
What would you like to tell our readers about your life?
I want people to know that Celebrating the Seasons is a book about going your own way. It's not a blueprint for how you should live your life, it simply says this is what we do as a family this is how we do it, feel free to follow the recipes, or do them your own way. I want people to not let themselves to be stereotyped, to know that all things are achievable if you really want to do it. So many people said you won't have time to write a book, you won't achieve that. But I believe you can do anything you just have to start doing it. If you want to write a book, start writing. I got an E in GCSE English, and this is my fifth book. Anything is possible.