Helen and Clare's parents live together at Faithfull House in Cheltenham which is part of the charity Lilian Faithfull Care. The sisters share their story of finding care and offer advice from what they have learnt along the way...
Helen and Clare both live over 100 miles away from their parents who were living independently in Cheltenham, and as Helen explains, "We were going up every two or three weeks to shop and clean, keeping an eye on them, but it was becoming obvious that our parents would soon need more support."
"We did start to think about [home] carers" explains Clare. "People often focus on staying in their own home and keeping their independence, but I think the reality is that unless you have live-in care, a [home] carer will come in for only fairly brief visits."
In 2020, their father had a fall. Helen recalls, "Dad was then in Gloucester Royal Hospital, and they were fantastic, but it became apparent he would need extra support when he came out and mum couldn't be on her own." It was then their parents came to Faithfull House together for respite care.
"Respite care is such a good way for everyone to try it out and get comfortable. Faithfull House made that really simple, it was still treated as if it was a full admission and we talked about things like bringing their own furniture."
"Faithfull House were very respectful of [our parent's] independence. When they first got to Faithfull House they wanted a bit of independence, my mum would still make herself a coffee, and that was all possible. Over time they've gradually accepted more help. The care adapts – it's been quite seamless."
When choosing a home they advised, "find out as much as you can about the communications – who you will speak to. We've had a brilliant connection with staff at Faithfull House from the start (pictured), they make it so easy". Clare gives an example, "If they've been to an appointment, one of the carers will ring us up and talk us through it. You can imagine some homes where communication isn't so structured."
The sisters also use the charity's social media to keep in touch. Clare explains; "I came off facebook years ago but I've come back on it purely to follow Lilian Faithfull Care. I love looking through all the activities; it just gives you a window on their world. I love that visibility."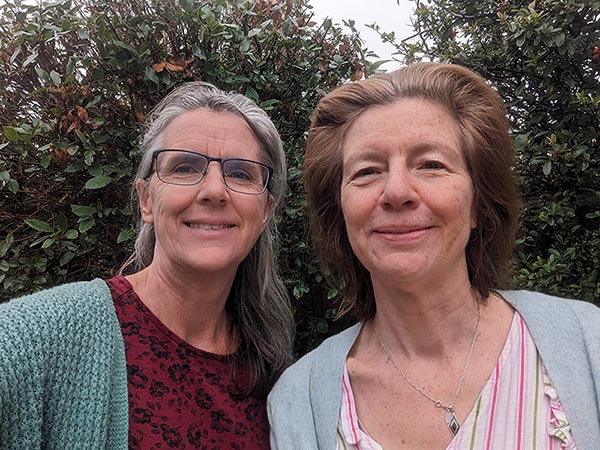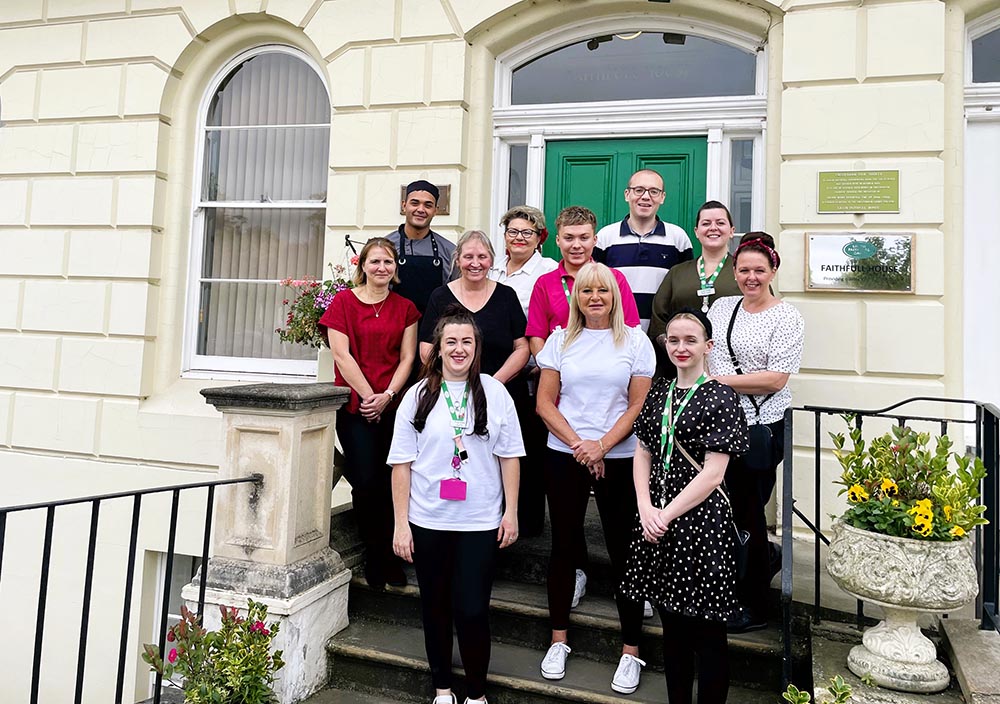 "Check the small print as some places have a limit to the amount of personal care per day." My mum and dad have needed more and more care since they've been at Faithfull House. You need to be clear about what happens when things progress, will they be able to stay here, whether there is dementia care, end of life care – all of these things are important."
"There is a real benefit of going somewhere which has got the scale and the structure to provide everything you need. Faithfull House is big enough to have all the infrastructure but not so big that it's impersonal. You've got a strong management team, the team leaders, the carers, receptionists, people to organise the activities, a brilliant kitchen, a beautiful garden, a physio, a hairdresser. Another thing for us is that when they need to go to appointments someone will go with them…I'm not sure it was even on our checklist! The fact that Faithfull House has their own wheelchair friendly chair transport is useful – that may not be something you think about. We also like that Faithfull House is run by a charity, rather than a commercial business accountable to its shareholders."
All the staff are wonderful, everyone is invested in making sure our parents have what they need which is all the more important as they need increasing amounts of support. For example, the catering staff will come in and make sure that the trays are turned around the right way to make sure dad can reach everything. The maintenance team come in to check whether lightbulbs need changing. We feel we know the staff, we are always happy to see a new face but it is nice to go back after all this time see familiar staff." Helen and Clare have also got to know the laundry lady, "She lets us know when our parents need new items of clothing. It's everybody, they are all carers, in the nicest possible way."
"We couldn't managed all of this if we didn't have power of attorney. Thankfully we had it for financial and medical. It was such a massive relief. I would say to anyone, have those difficult conversations now."
Helen and Clare also explained that the staff have also talked through difficult issues such as DNRs (do not resuscitate). "That's another conversation to try and have early doors, don't leave it until they aren't understanding things. It can change very quickly from having completely normal conversations to when they are hard of hearing or comprehension has disappeared. Don't leave it too late."
"Get those memories down prompts Helen, "I have recorded our parents talking through their photo albums. We have also been careful to keep letters and their travel diaries safe."
Helen continues, "We just keep having these conversations where we say, 'oh my goodness, we are so lucky mum and dad are at Faithfull House,' because of a lot of these things weren't in our mind when they first went there.
"The list of things that we have to be grateful for keeps on growing. We could not ask for a better home or more dedicated staff – they feel like extended family now."