A twist on the traditional roast, this Easter-inspired recipe is set to be real crowd-pleaser with the entire family…
Serves 6
Prep time: 30 minutes
Cooking time: 30 minutes (plus overnight marinating time)
Ingredients:
1.2kg lamb rump or boneless leg, portioned into equal pieces
500g live natural yogurt
25g fresh rosemary, leaves and stalks separated
2 whole romanesco, leaves removed
3 tbsp vegetable oil
7 Opies Pickled Walnuts, 4 finely chopped and 3 halved for serving, plus 1 tbsp pickling liquid
60ml olive oil
500ml fresh lamb stock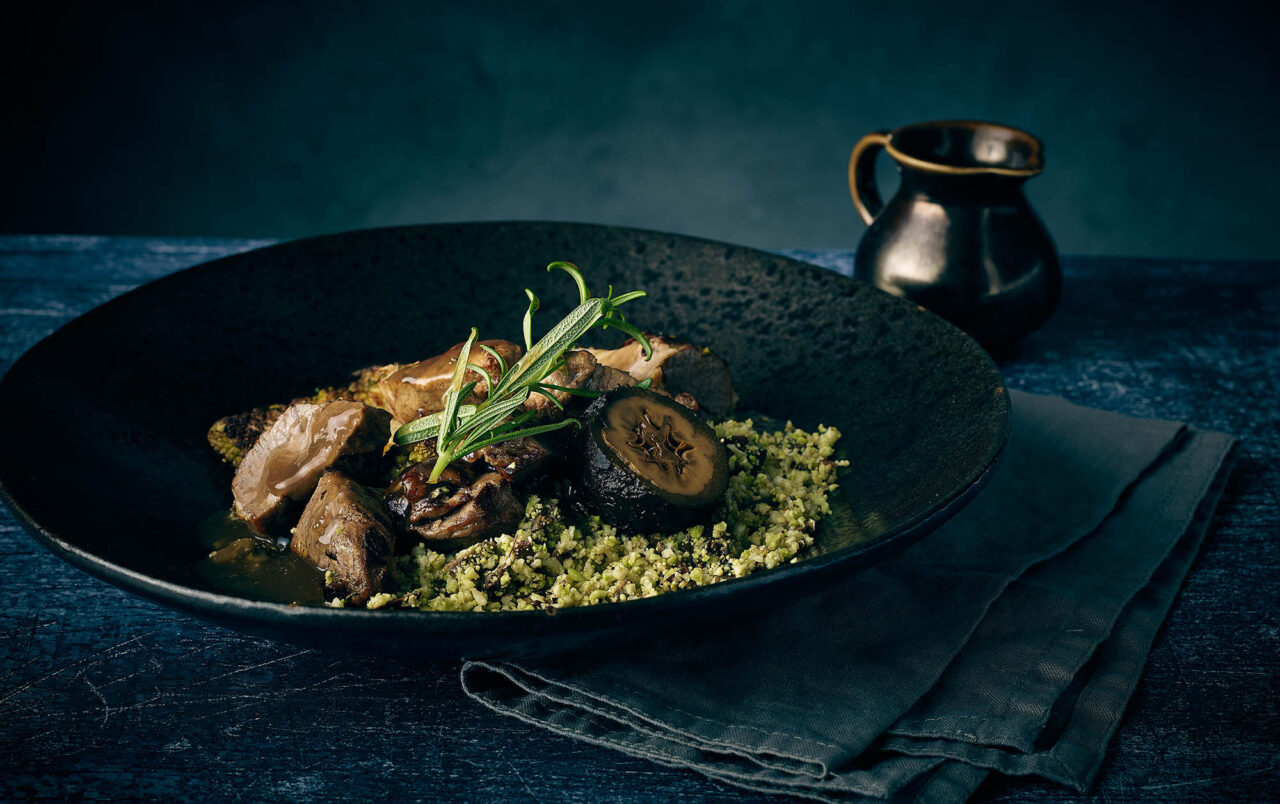 Method:
The night before, trim the fat from the lamb then mix with the yogurt and rosemary leaves. Cover and put in the fridge to marinate overnight.
The next day, trim the stalk off a romanesco so that it sits upright on a board. Slice 5cm off each side with a bread knife (keep these off-cuts to make the couscous). Slice the rest of the romanesco into three thick slices. Repeat with the other romanesco. Oil a large, non-stick baking tray with 1 tbsp vegetable oil. Lay the romanesco slices in a single layer and drizzle with a little more vegetable oil. Season with salt and scatter over the rosemary stalks, ready to roast.
Heat oven to 200C/180C fan/gas 6. Wipe the marinade off the lamb and season with sea salt. Heat 2 tbsp vegetable oil a large ovenproof frying pan. Fry the lamb until golden all over, then roast in the oven for 8-12 mins, depending on how rare you like it. Put the romanesco in the oven at the same time. Once the lamb is ready, remove from the oven, flip the romanesco slices over so they char on both sides, and cook for a further 10 mins. Cover and rest the lamb in the pan for 10 mins.
Finely chop or pulse the romanesco off-cuts in a food processor until they are the texture of couscous. Mix the finely chopped walnuts into the couscous with the olive oil, and season with salt.
Meanwhile, simmer the stock in a wide saucepan with 1 tbsp of the walnut pickling vinegar from the jar for 10 mins until it forms a jus.
Slice the lamb and serve with the romanesco slices, some couscous, half a walnut and the jus.
Where to Buy:
Opies Pickled Walnuts are available from Tesco, Morrisons, Booths, Waitrose, Ocado and Sainsburys from £3.00.