Whether you're following a vegan diet, or simply trying to enjoy more plant foods, nutritionist for Discover Great Veg, Pixie Turner has shared two delicious, nutritious, and quick-to-prepare mealtime recipe ideas…
Both the All-the-Greens Risotto and Cavolo Nero Salad with Sweet Potato, Pear, Walnut, and a Vegan Blue Cheese Dressing, provide two of the five recommended daily portions of fruit and veg and take no more than 30 minutes to prepare and cook.
Each recipe also contains the 'super green' cavolo nero, which is a good plant-based source of calcium (which helps build bones, keep teeth healthy and ensure blood clots normally[1]), iron (important for making red blood cells which carry oxygen around the body[2]), vitamins A and C (which help the immune system to function normally), lutein (which can help with eye health), vitamin K (which plays a role in maintaining normal bones) and is a significant source of the B vitamins too.
So, for two mouth-watering ways to enjoy more plant-based foods at mealtimes this January and beyond, give these tasty recipes a try.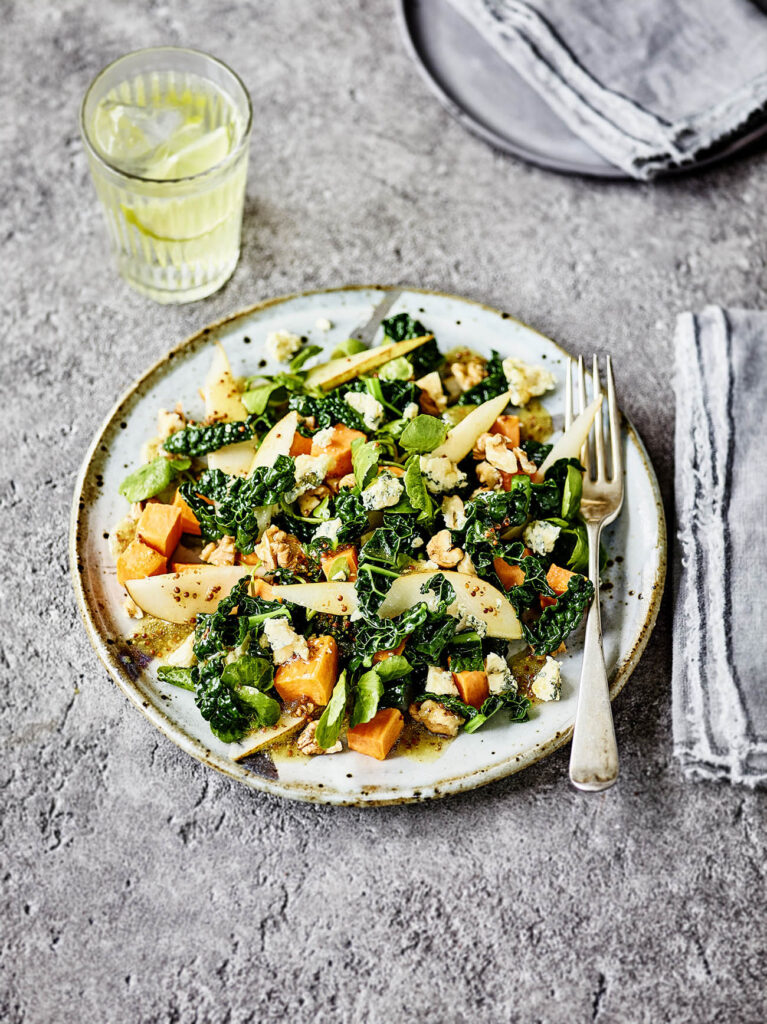 Cavolo Nero Salad with Sweet Potato, Pear, Walnut, and a Vegan Blue Cheese Dressing
Serves 2
Ingredients:
200g sweet potato, chopped into 1cm cubes
Olive oil
Salt and pepper
80g cavolo nero, sliced
1-2 pears (~150g)
50g watercress
40g walnut pieces
Vegan blue cheese dressing:
1 cup Vegan Mayonnaise
1 tbsp Dijon Mustard
1 crushed garlic clove, or ½ tsp garlic powder
1 tbsp white wine vinegar
2 tbsp lemon juice
1 tbsp maple syrup
¼ cup nutritional yeast (optional)
1 tsp salt
½ tsp dried dill
60g extra firm tofu
What to do:
Preheat the oven to 180ᵒC/gas mark 4.
Place the sweet potato cubes on a baking tray and drizzle with the olive oil. Bake for around 15 minutes, until soft.
Meanwhile whisk together all the dressing ingredients (minus the tofu) until smooth. Crumble the tofu with a fork and stir it into the mixture. Set aside.
Bring a small pan of water to the boil. Blanch the cavolo nero for 5 minutes or until tender
Quarter, core and thinly slice the pears.
Mix the cavolo nero, watercress and pear slices in a bowl.
Dry toast the walnut pieces for 2 minutes.
Add the walnuts and sweet potato to the bowl. Drizzle over your preferred amount of dressing. Serve!
Don't feel like making your own dressing? Buy a ready-made vegan blue cheese dressing.
This dressing recipe makes more than you need, so store the remainder in the fridge.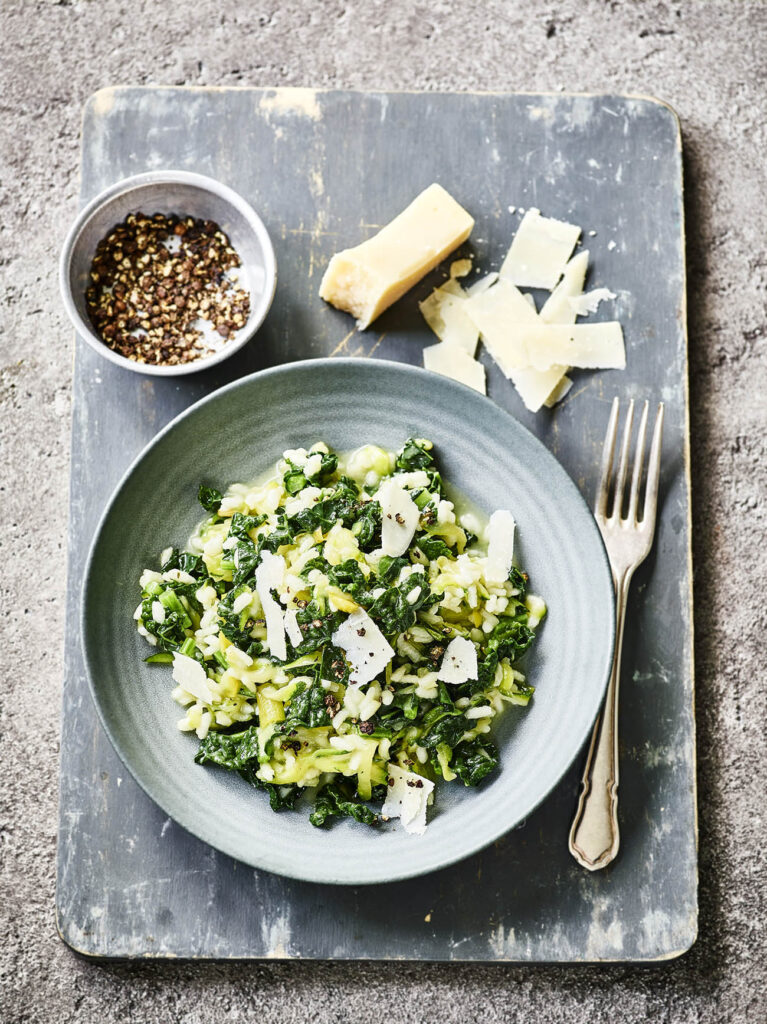 All-the-Greens Risotto
Serves 2
Ingredients:
Olive oil
80g leek, diced
2 cloves garlic
200g risotto rice
1 vegetable stock cube with 500mL boiling water (+ extra water if needed)
1 courgette (250g), coarsely grated
150g cavolo nero, finely sliced
Salt and pepper
50g grated vegan hard cheese (optional)
50g vegan butter (optional)
What to do:
Heat 1 tbsp of the olive oil in a wide pan over a medium heat.
Gently cook the leek for around 5 minutes, stirring occasionally.
In the meantime, make the stock.
Add the garlic and risotto rice to the pan and heat through, stirring continuously for 1 minute.
Add half the stock, stir thoroughly. Set a timer for 15 minutes for cooking the rice (or for the recommended pack cooking time minus 2 minutes).
Cook the courgette separately in the remaining olive oil to remove any excess moisture, then add to the risotto pan when the timer says 10 minutes to go.
Stir the rice continuously to avoid it sticking to the bottom of the pan (turn down the heat if needed).
Anytime the rice gets too dry, add a little more stock, not too much at a time. If it bubbles too much turn down the heat a little.
Add the cavolo nero when the timer says 5 minutes to go.
When the 15 minutes are up, taste test the risotto. It should be al dente, not completely soft. If it's ready, turn off the heat, stir in the vegan cheese and the vegan butter, stirring in gently until deliciously creamy. If you're not using these, stir in some high-quality olive oil.
Serve immediately, adding a final drizzle of olive oil (trust me on this one, don't skip it) onto each individual plate.
Remember: people wait for risotto; risotto doesn't wait for people.
In summer, consider adding asparagus.