Mushroom & Walnut Orzetto
To kick-start vegan month (November), California Walnuts has developed seven meatless meals for each day of the week.
The mild and creamy flavour of California Walnuts can be enjoyed in a host of recipes. Once ground, walnuts also offer a wholesome, plant-based meat substitute that can work in curries, pizza toppings and more.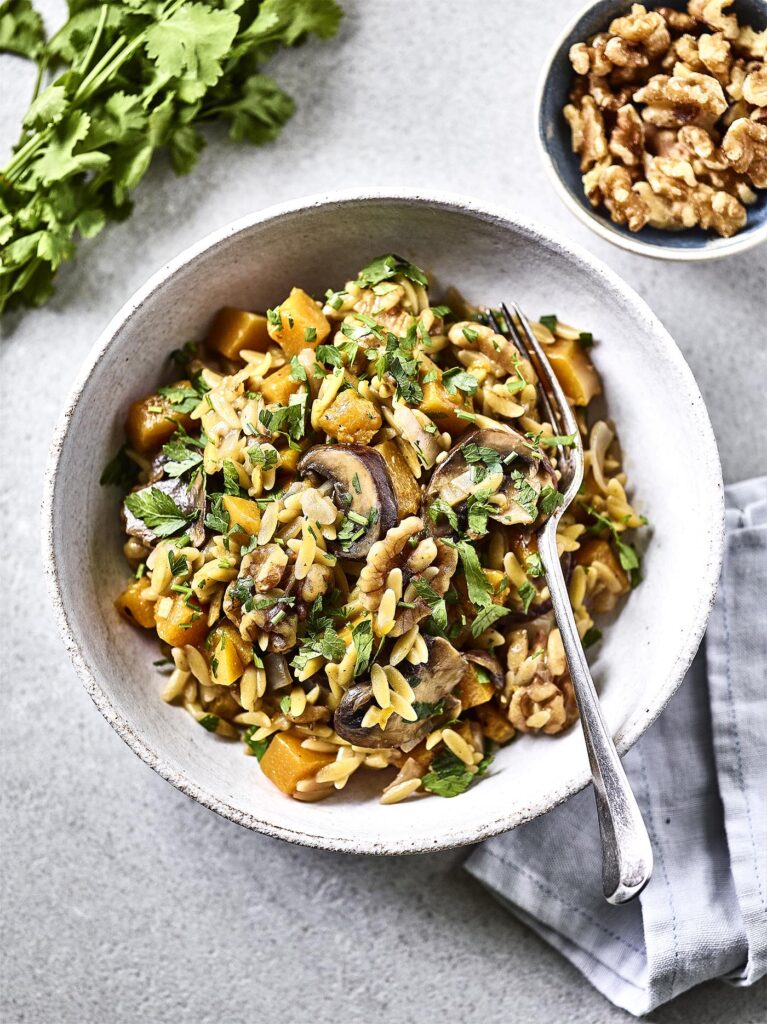 Course: dinner
Prep Time: 15 minutes 
Cook Time: 20 minutes
Servings: 4
Calories: 511kcal
Ingredients
1 tbsp olive oil
1 onion chopped
1 clove garlic finely chopped
400 g butternut squash cut into 1cm dice
100 g California Walnuts
200 g mushrooms sliced
250 g orzo pasta
600 ml vegetable stock
1 tbsp white wine vinegar
2 tbsp chopped parsley
Instructions
Heat the oil in a large frying pan and fry the onion, garlic and squash for 5 minutes. Stir in the walnuts and mushrooms and cook for 3 minutes.
Add the orzo and stock, cover the pan and simmer for 10 minutes, stirring occasionally until the pasta is tender. Season and stir in the vinegar and parsley to serve.
Cooks tip
Try adding some blue cheese at the end of cooking or sprinkle with Parmesan for a non-plant based option.
Nutrition
Serving: 348g | Calories: 511kcal | Carbohydrates: 59g | Protein: 15g | Fat: 22g | Saturated Fat: 2.9g | Fibre: 8g | Sugar: 9.6g
Notes
Salt: 0.18g