The sweet smell of small business success!
While we have all adapted our shopping trends over the years, there's always something that doesn't go out of fashion – that's customer service excellence. We all love that feel good high after we make a purchase and we've been well looked after. This is the ethos behind independently owned and operated Perfumery & Co.  Co-Founders, Anthony Harwood and David F J McConnachie (pictured above and below), are celebrating their half year anniversary since they opened their second store in Ringwood at The Furlong shopping centre (next door to COOK).
Co-Founder, David F J McConnachie (pictured on the right), is no stranger to talking to customers, about the products he loves, with 2 years' of presenting experience on the QVC shopping channel. He comments; "The experience of bygone era shopping with a friendly welcome, knowledgeable advice and complimentary gift wrapping seems to be becoming a dying art. We want every single one of our customers leaving our store to feel like a million dollars. That's why we put so much behind our customer service and we're continuing to invest in experiences for our clients that they can't replicate with their online purchases."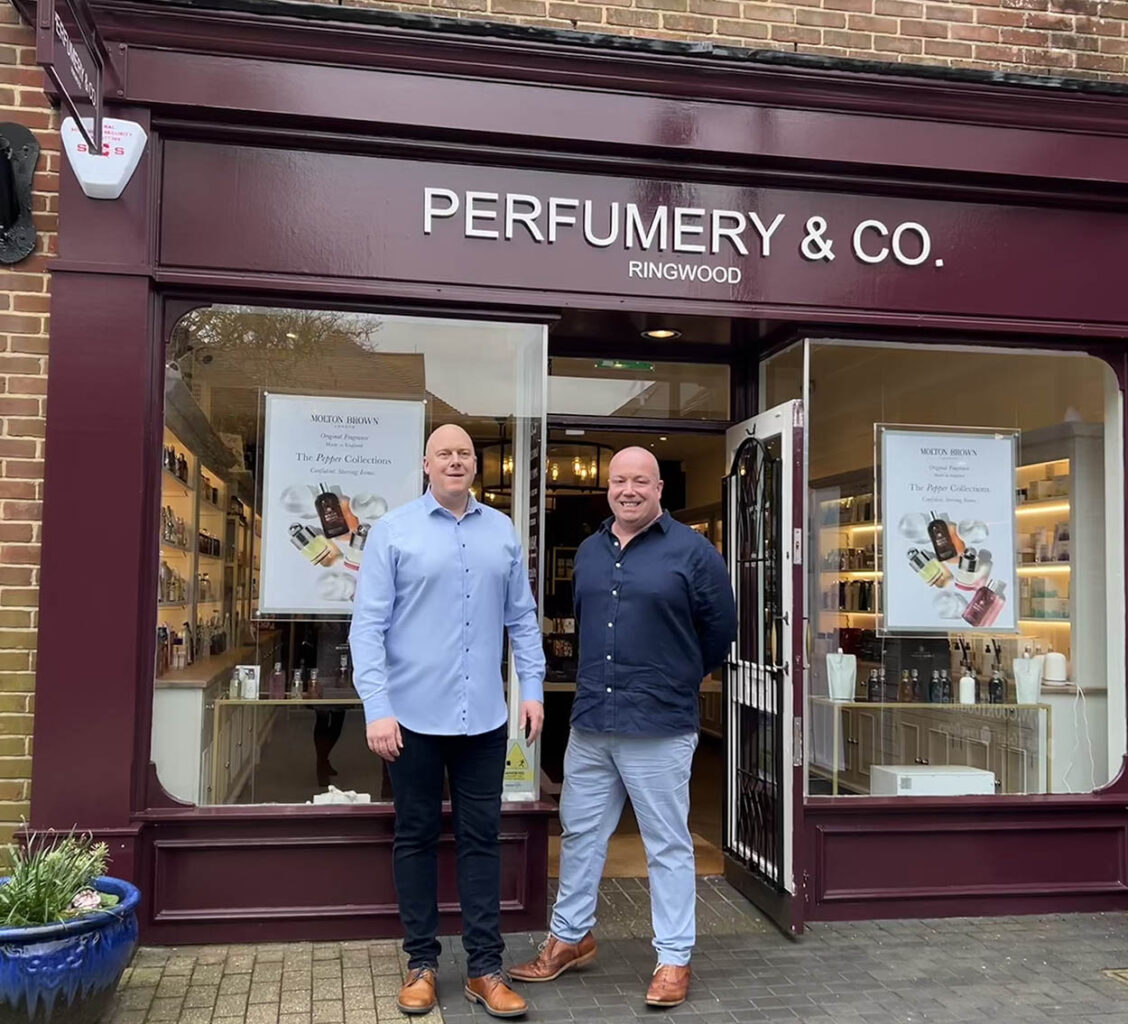 With a 5* customer rating online, it's easy to see from the comments what makes this store such a huge success.
"Such a beautiful shop, run by beautiful people. Very stylish shop, everything is laid out nicely so it's easy to see and not overwhelming. The customer service is excellent. I'm not that knowledgeable about cosmetics, but David always makes me feel at ease when I'm looking to learn more. I bought the most beautiful smelling body lotion!"
Google review by Robyn Parker-Hales
This store signing is a breath of fresh air for Ringwood. Luxury brands such as Hermes, Molton Brown (sold exclusively in the New Forest), NEOM, Noble Isle, L'OCCITANE and desirable perfumes from Marc Jacobs to Givenchy, are now available in one boutique store in a prime and easily accessible location. Also, as the only official local stockist of Chanel, the Perfumery & Co is attracting customers from further afield to visit this historical market town.
The Perfumery & Co owners are also really enthusiastic on bringing experiential retail to their Ringwood customers with monthly facials from luxury skincare brand, ELEMIS. They also offer "Fragrance Fittings" to help find your perfect scent, bridal perfumery experiences and makeovers using their Stila beauty range.
Discover more at www.perfumeryandcompany.com