Award-winning garden designer and National Garden Scheme Trustee, Arit Anderson and interior design expert Susie Watson give their top tips and advice on creating the perfect seating area in any garden...
"Sitting in your garden is a feat to be worked at with unflagging determination and single-mindedness. I am deeply committed to sitting in the garden." Mirabel Osler – English writer and garden designer.
When all the hard work of planning and planting and pruning is done, there is little more satisfying to a gardener than to sit in the garden (or someone else's) and admire the blossoming beauty that surrounds you.
Whether your seat is a rickety old favourite more often used for storing watering cans, or a glorious, cushion strewn wrought iron bench set among the hollyhocks, seating plays an enormously important role in any garden and the way you use it.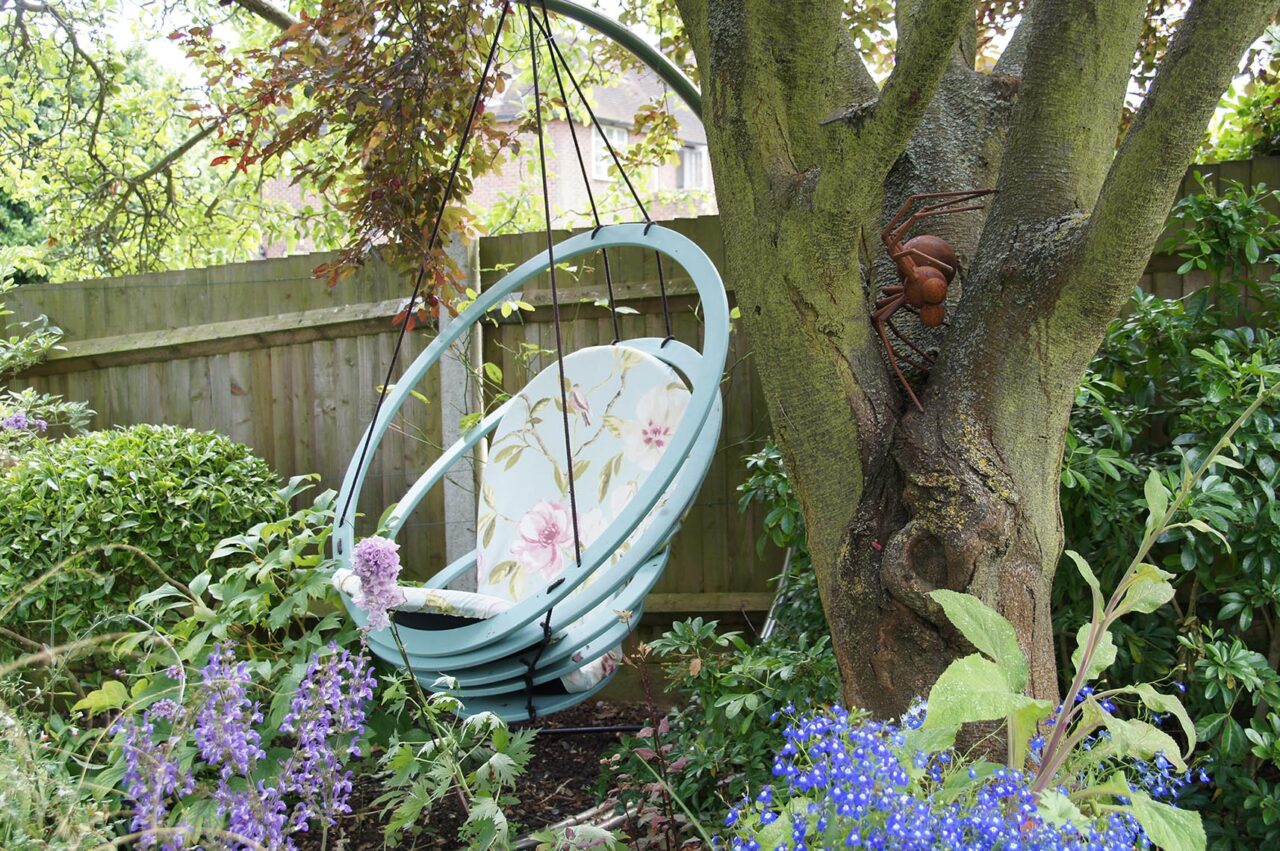 "We know that a priceless element of a garden visit for many people visiting National Garden Scheme gardens is the opportunity to just sit and take a moment in beautiful natural surroundings," says George Plumptre, Chief Executive of the National Garden Scheme. "Knowledgeable gardeners might want to admire some particular plants in flower in a border in front of them; others will sit and listen to birdsong or perhaps the sound of water in the garden. For everyone, sitting in a garden allows you to feel the pressures of daily life slipping away." 
Making space for garden seating is a priority for award-winning garden designer and National Garden Scheme Trustee, Arit Anderson. "When designing a garden, I do like to incorporate areas to sit," she says. "Think about the views and try to place seating facing a favourite vista. But, if like me, you have a small garden then the position of the sun will guide you to the best spot; sun drenched or shady, marry it to your favourite time of day and you'll make a bee line to immerse yourself in that seat. If the space allows, have multiple places to relax. An area that is social and allows seated dining is always fun, and another for a little more solitude, if only a patch to put a deckchair. Seats in the garden allow us to be a human 'being' instead of a human doing!"
For Susie Watson, Designer and Founder of Susie Watson Designs, who is opening her Wiltshire garden (pictured) for the first time in June 2023 with the National Garden Scheme, seating for eating al fresco is a must.
"Whether it's afternoon tea, a family lunch or a lovely supper, using a colour palette that blends well with the garden surroundings works best," she says. "I tend to use lots of greens, pinks and reds in the garden with touches of saffron."
As to setting the scene, Susie suggests using lots of cushions in the suggested colour palette and that a tablecloth is a must. "It doesn't matter if the crockery and glasses match – a mixture can add to the charm and rugs are colourful and cosy and perfect for when the evening chill sets in. Complete the look with hurricane vases for candles and tealights to protect them from the wind – they work really well and look lovely twinkling at dusk. Lots of flower bottles dotted around the table with a few stems also means you can use less flowers and spread the floral impact, but I usually have a big jug of flowers in the centre as well."
With 3,500 gardens opening for the National Garden Scheme in 2023 there is no shortage of inspiration for those wanting to create the perfect seating area in their garden. From city courtyards and cottage gardens to country acres and allotments there is always space to place seating that enhances the design of your garden and gives you – and visitors – the perfect vantage point from which to rest and admire all your hard work.