Ten thousand festivalgoers experienced an explosion of music and culture in an idyllic Kirtlington Park, Oxfordshire, for the first-ever KITE – a curated journey of cutting-edge debate and a rich programme of ideas with spectacular musical performances closing each day…
Over one hundred performances covering a diverse line-up of musicians, comedians, artists, writers, activists, and thinkers – KITE's range of cultural experiences transcended any festival's debut year. From age-defying headliners like Mavis Staples and Grace Jones to Britain's sharpest minds, including George Monbiot and Tina Brown, to titans of culture like Ai Weiwei to modern-day sensations in Bimini, there is simply no other festival like KITE.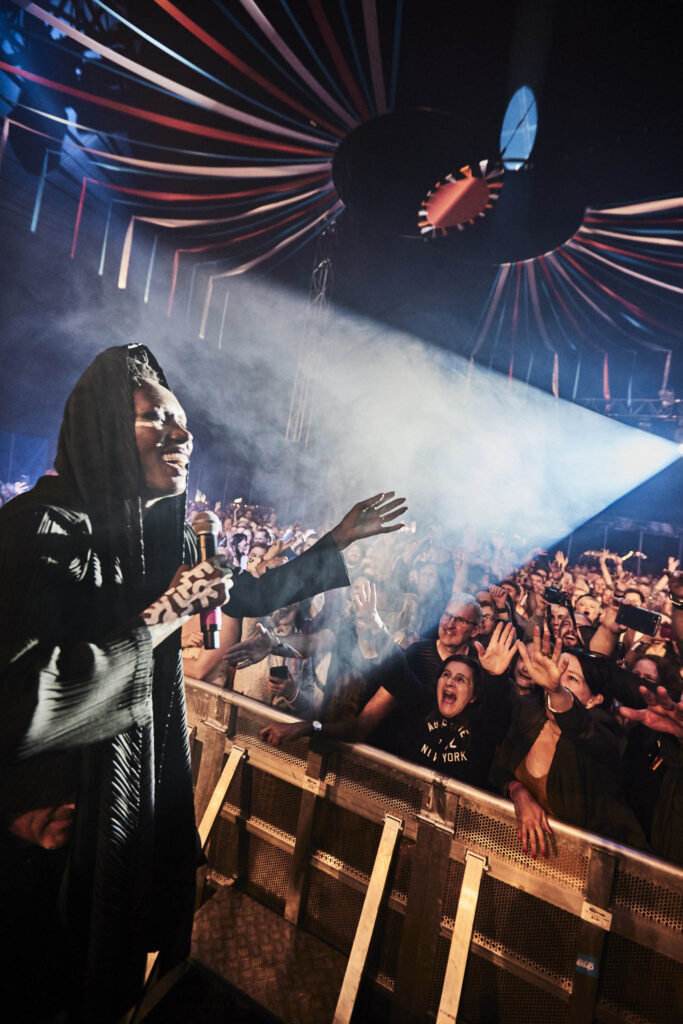 Early bird campers and weekend revellers kicked off Friday to a rich melting pot of ideas. A jam-packed crowd greeted the eloquent Rory Stewart in conversation with media veteran Andrew Neil discussing the Tory Party, war, and justice, followed by revered visual artist Ai Weiwei interviewed live to an audience spilling out of the Town Hall tent.
Elsewhere, in The Forum the morning programme commenced with two world-renowned historians – William Dalrymple & David Olusoga, bouncing off one another, discussing the ever-changing role of history and our increasingly digital modern age affecting how we process the past. Up next, Britain's cooking queen Delia Smith talked to June Sarpong about ways towards a more meaningful existence detailed in her recently published book You Matter: The Human Solution.
After lunch, a one-two-punch of Elizabeth Day followed by Jarvis Cocker performing on an electric main stage, each live interviewed to crowds in the thousands. The engaging Elizabeth charmed the audience, sharing her addiction to busyness and avoiding loneliness through writing. Then the eccentric Jarvis Cocker captivated KITE bringing a plastic bag of props on stage, from personal diaries to memorabilia from his attic. Bimini dazzled the main stage in conversation with Jack Guinness sharing her journey to the top of drag queen stardom.
KITE also hosted Britain's pre-eminent voice on climate change George Monbiot, discussing feeding the world without devouring the planet and sharing his no holds barred views on our planet.Then acclaimed actress Minnie Driver, alongside her dog Bob, shared astonishing stories of her childhood that shaped her glistening acting career, followed by royalist and journalist Tina Brown sharing exclusive opinions on Harry and Meghan, what The Queen thinks about Boris and how integral the Duke and Duchess of Cambridge's are for the Monarchy's future.
Morning ThinkIns, edited and overseen by a broad selection of experts, explored many topics. As guests sat down for their morning coffees, the intellectually curious were introduced to Web3 featuring 'NFTs WTF?' with the spell-binding Luke Gbedemah and 'Crypto For Idiots' with TV personality Sunil Patel, then 'How to write a song' with songwriter and producer Eg White who, in 90 minutes, created KITE's anthem for 2022 heavily influenced by the audience. These diverse panels, Lessons and ThinkIns fielded audience questions that shaped the conversation for those eager to participate in live debates and lively discussion.
As KITE's stellar ideas programme drew to a close, Sunday's crowd was treated to legendary satirist and political commentator Armando Iannucci talking about his latest book Pandemonium and delighting the audience with stories about The Thick of It and Alan Partridge, including his thoughts on Partygate and the changing landscape of satire in 2022. Finally, Professor Richard Dawkins – one of the world's most outstanding living scientists delivered a keynote address and fielded audience questions about his latest book, Flights of Fancy.
KITE rolled on with a timeless display by rhythm & blues and gospel icon Mavis Staples, kicking off the festival's musical programme. The 82-year-old singer was followed by the sensational Saint Etienne, who performed their excellent catalogue, ramping up to the fierce and empowering Self Esteem who was welcomed to deafening screams – a new pop icon Rebecca Lucy Taylor emerged and delivered.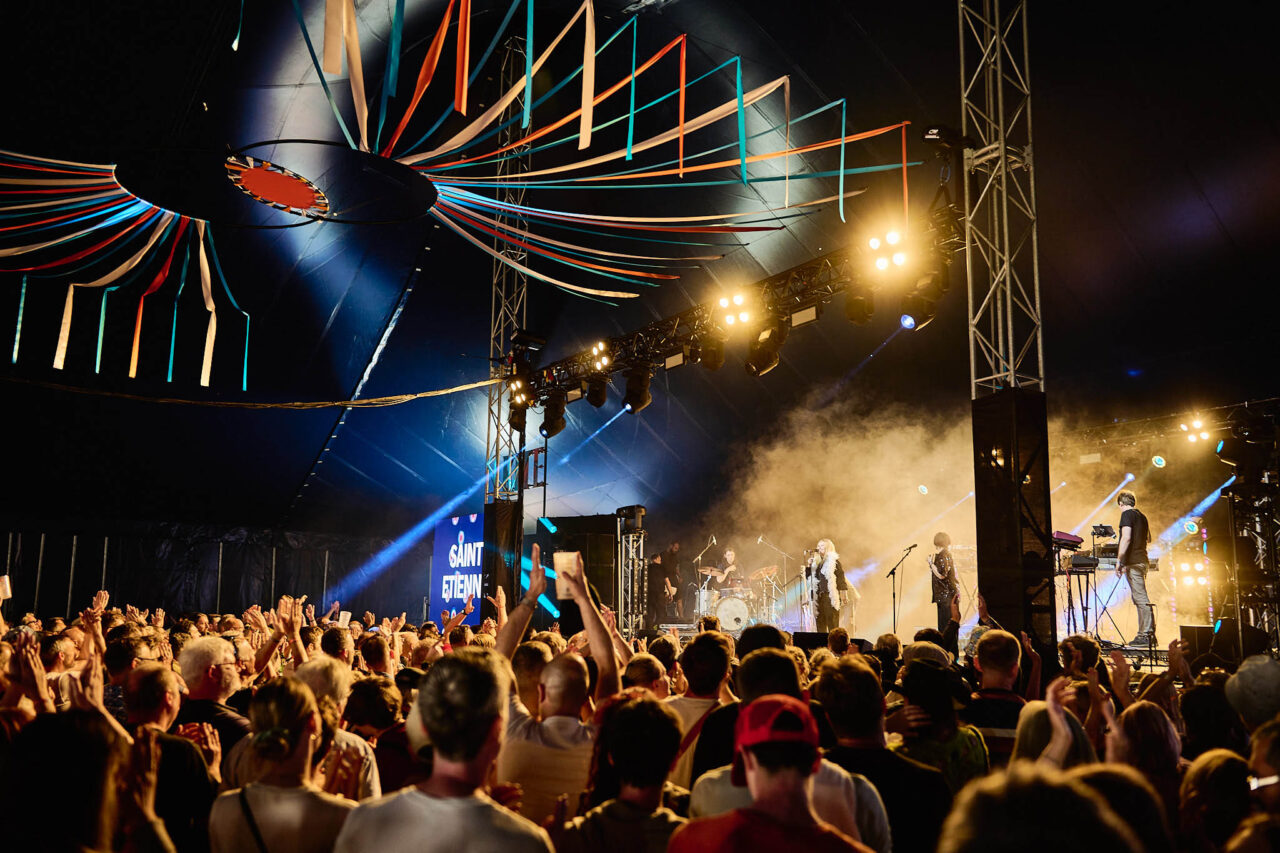 Grace Jones closed Saturday's main stage executing a commanding performance for a packed-out crowd that witnessed several wardrobe changes, hula-hooping, and Grace parading in the pit on a crew member's shoulders whilst retaining immaculate poise concluding a bombastic show.
Meanwhile one of the festival's highlights – Confidence Man took over Heavenly Presents, summoning positive, celebratory energy with a thumping off-the-scale display. The electric two-piece connected with the audience engagingly and hypnotically, leaving everyone wanting more.
And on Sunday, a series of world-class performances closed KITE with Seun Kuti – the youngest son of Fela Kuti and leader of the Egypt 80. The ensemble brought the house down, filling up KITE's main stage with their politically charged afrobeat performance for a new generation. Then for a change of pace, alternative folk singer-songwriter Kate Stables AKA This Is The Kit, captivated her audience with beautiful harmonies and instrumentals.
Over at Heavenly Presents, the talented Fran Lobo grabbed the audience's attention with her hypnotic brand of soulful vocals, followed by DJ, radio presenter and vocalist Gwenno, carrying her passion for protecting minority languages with parts of her performance in her Cornish native tongue. And finally, two of Britain's brightest talents performed for KITE; first, Tom Misch brought his unique fusion of R&B, jazz, and soul beats to a packed-out crowd drawn, and finally, Black Country, New Road closed KITE 2022 with their languorous styled experimental rock, delivering on their much-deserved hype as the UK's biggest breakthrough bands of 2021 & 2022.
Ciro Romano, festival director, said: "After the enforced delay, it was truly joyful for me to see the festival finally come together. I am so thrilled that our audience was so enthusiastic and embraced the ethos of the inaugural KITE festival. As the sun went down this evening on an idyllic Kirtlington Park, I hope festivalgoers reflected on a weekend of vibrant music, cultural stimulation, intelligent interaction, fabulous food, and something newly discovered. We can't wait to announce plans for 2023."