Everyone loves Numberblocks fans of all ages will love this fun arts and crafts set.
With reusable stamps and washable inks in the Numberblocks unique colours, children can create their own Numberblocks adventures based on the popular Stampoline Park episode. This 32-piece Numberblocks craft kit includes 20 stamps to create the Numberblocks One to Ten, and 12 ink pads with washable inks. Available from www.learningresources.co.uk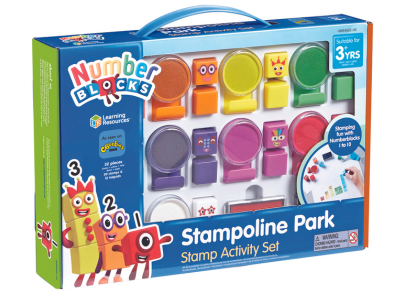 Closing date: 30/10/23
Competition Keyword: 'NUMBERBLOCKS'
How to Enter
There are three ways to enter – for free by post, a Single Entry (75p) or, the most cost-effective way, joining our Competition Club (£12.99) – we will automatically enter you into all competitions we run over the 12-month period from your payment – that's over 60 giveaways. You can click on either of the options below to enter.
For post, please send your name, and a contact method (phone or email address) on a postcard along with the competition keyword to: Minerva Publications, Unit 21C, Paxcroft Farm, Hilperton, BA14 6JB. Only one entry per postcard – terms and conditions apply.