STIGA are offering readers the chance to WIN a Battery Powered AERO hover mower (RRP £221) & a VS 100e Kit Cordless vacuum shredder (RRP £251)…
Mow small and simple lawns quickly and effortlessly with STIGA Aero – a battery mower that rides on air. Its STIGA patented design uses aeronautical technology to optimise battery life and cutting performance. Light yet strong, it's easy to manoeuvre on slopes. And when you've finished you can simply hand it on the wall of your garage or shed.
The 'Aero' combines top-quality with low cost and it will hover over the longest grass and quickly cut it down to size. It is ideal for small gardens up to 100 sqm and will work equally well on level, uneven…or even steep terrain!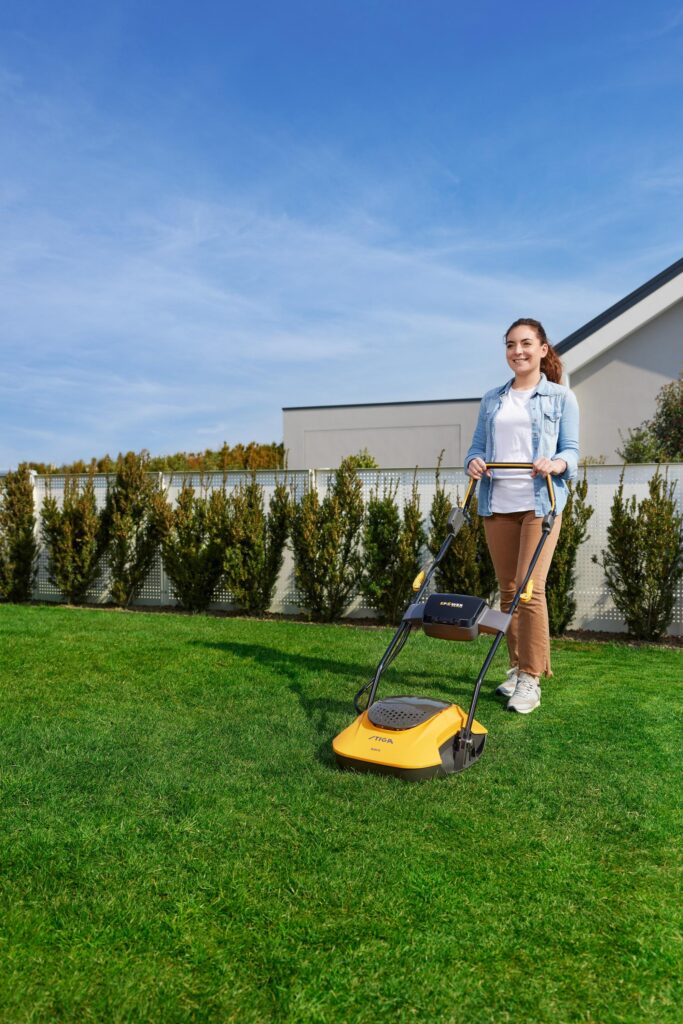 Light but strong
This mower is extremely lightweight and is ideal for smaller gardens, its STIGA patented design uses aeronautical technology to optimise battery life and cutting performance. The 'Aero' is powered by 2 x 20V 4Ah ePower batteries that are interchangeable with other products in the STIGA 20V cordless range, from grass trimmers, blower/vacs, multi-tools and hedge trimmers. It is light yet strong and easy to use on slopes.
Ultra-blades and cutting ability.
This small but incredibly strong hover machine is designed for ultimate convenience. The unique patented cutting deck traps the air creating the right amount of energy to produce the cushioning effect that lifts the mower from the ground similar to a hovercraft. The new blade has been specially designed for maximum cutting efficiency without disturbing air flow to guarantee optimal cutting result.
Easy to use and store!
With on-off button control on the handlebar, there is no fiddling with height of cut adjustments or blade speeds. It weighs just 7kg (without batteries) and takes up minimal space in the shed or garage. And it's so small, it can hang on a wall when finished!
The STIGA VS 100e Kit Cordless Vacuum Shredder can not only be used as a blower but can also vacuum up debris around the garden and shred it into an eco-friendly mulch that you can then use on your flowerbeds. Two tools in One and all powered by battery technology!
For the environment
Trimming hedges and trees and then blowing away the debris is great for tidying up after a gardening session. But instead of throwing the dead plant matter away, it makes eco-friendly sense to reuse it as a natural fertiliser in your flower and vegetable beds. The STIGA Essential Vacuum Shredder helps you do exactly that – quickly and easily – at the flick of a lever.
Easy to use
Use this powerful, cordless tool as a leaf blower, a vacuum cleaner, and an automatic shredder. This automatically passes the nutritious mulch straight into the generous 45L textile bag – reducing the waste down to a tenth of the original amount you collect. When you've finished, simply open and pour out onto the soil, or store as compost. The bag also detaches quickly from the tool if you need to wash it.
Compact & perfectly balanced
Compact, perfectly balanced and weighing only 2kg, the soft-grip handle, harness and front guide wheels reduce any arm strain on those time-consuming jobs. Simply adjust the air speed to suit what you're doing with no risk of the robust 600W brushless motor overheating. And rely on the two STIGA ePower 20V 4Ah batteries to keep going as long as you do. These batteries also slot into our other 1 Series tools – making them extra versatile for gardening jobs throughout the year. Batteries and Charger included.
Buy this and other STIGA products at www.stiga.com/uk
Closing date: 30/08/23
Competition Keyword: 'GARDENCARE'
How to Enter
There are three ways to enter – for free by post, a Single Entry (75p) or, the most cost-effective way, joining our Competition Club (£12.99) – we will automatically enter you into all competitions we run over the 12-month period from your payment – that's over 60 giveaways. You can click on either of the options below to enter.
For post, please send your name, and a contact method (phone or email address) on a postcard along with the competition keyword to: Minerva Publications, Unit 21C, Paxcroft Farm, Hilperton, BA14 6JB. Only one entry per postcard – terms and conditions apply.