In his first-ever professional competition, Kieran Bradley, 22, from Findon Valley just outside Worthing, has been awarded the coveted title 'Chaine des Rotisseurs Young Chef of the Year 2021'. He goes on to represent Great Britain in the world-wide International Finals in Paris this September...
Life for talented young professionals is frantic, as they work hard to overcome the current staff shortages. So much so, that Kieran was not able to leave the kitchen at the Vineyard Hotel, Newbury – where he is currently cooking – to come to the Awards Ceremony. Instead, he was beamed to the assembled guests at the Royal Lancaster Hotel, London via Zoom, with his new title announced by Executive Chef Tom Scade at his side.
'Winning was the last thing I was expecting' Kieran said later. 'It was such a surprise, as I had never done anything like that before. And I had to watch my language, being on camera in front of everyone! Now I am looking forward to going to Paris to compete against the rest of the world. Cooking in France is a dream come true'
To win his title, Kieran took part in a fierce 'cook off' in the Unilever kitchens in Surrey, where six finalists from all over the country, including top London restaurants, competed against each other to create and produce a three-course meal for four in 4 hours from a mystery box of ingredients. 'My menu just wrote itself, thanks to all that I have learned along the way' he explains. 'I wanted to keep it simple to stay within the time frame. But I set myself a big challenge with the mille feuille…….'
Starter – Cured mackerel, apple and squid; Main – Stuffed guinea fowl, peas and crushed new potatoes; Dessert – strawberry and pistachio mille feuille
The judges agreed, saying his dishes not only showed off his passion for food, but also the experience and skills he has gained so far. He brought it all to the stove in the Finals.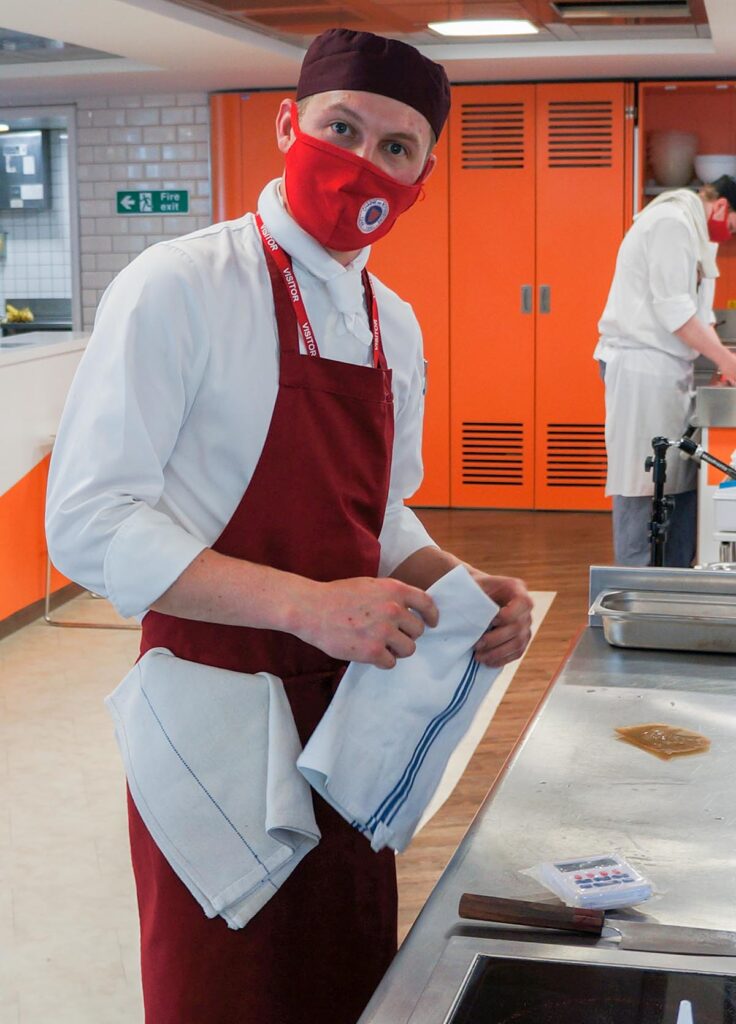 Kieran might be just 22, but he has already packed a great deal into his career. After school in Worthing he applied for a place at the Bournemouth & Poole Catering College, where he won the Royal Academy of Culinary Arts scholarship. A two-year placement at The Goring Hotel in Belgravia followed, where he received practical training in all aspects of the kitchen – under the watchful eye of Executive Chef Shay Cooper. After graduating, Kieran moved on to The Greenhouse in Mayfair. 'It was the best place I have worked in – so far. I was very sad when the restaurant closed during the pandemic'.
But Kieran was not one to stand still. He enrolled as a Tesco delivery driver to keep himself busy and returned to that during lockdowns ever since. 'They were a great bunch of people – and I was still working with food', he says cheerfully. Last summer, he joined the team of six chefs at The Vineyard, serving the three restaurants as well as all the hotel requirements from teas & coffees to room service.
Now he has to find the time to prepare for those Paris Finals, waving the flag for GB ….and, as the Chaine's winner, also take part in the prestigious National Craft Guild of Chefs Young Chef of the Year contest.