Five major outdoor art installations premiere at Wakehurst, Kew's wild botanic garden in Sussex, as part of new summer programme inspired by Kew's world-leading science projects…
8 July – 18 September 2022; 10.00-18.00
Tickets on sale now from kew.org/nourish
Included in day ticket price £14.95 adults, £7.50 17-25yrs: children free Nourish: After Hours from £15, Workshops from £15
Wakehurst, Sussex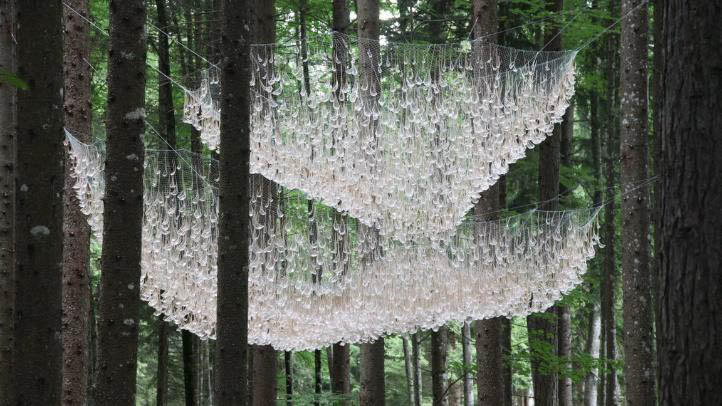 Highlights include:
• Bespoke 24ft high sculpture suspended across Wakehurst's Westwood Valley by American artist John Grade, rising and falling in response to rainfall, inspired by Kew's research into the high-altitude ecosystem in the Colombian Andes called the Páramo
• The False Banana Pavilion, a newly commissioned large-scale installation from Flea Folly Architects celebrates enset, the remarkable African wild banana relative that could become a resilient climate-smart crop of the future
• UK Young Artist of the Year nominee Malgorzata Lisiecka reflects on the power of fungi with a series of 3D interactive sculptures, inspired by the underground networks of mycelium and roots that support all life on earth, currently being researched in Kew's Useful Plants and Fungi of Colombia project
• Eight After Hours evening events offer visitors unique opportunity to experience the gardens at sunset, complete with live performances and outdoor dining
This summer, Wakehurst, Kew's wild botanic garden, invites visitors to discover a series of newly commissioned outdoor installations, each responding to critical Kew Science research projects that explore the future of plants and food in communities across the world. Nestled across the botanic gardens, each artwork draws visitors into a new habitat in the diverse landscape, carving out time to savour in nature, and to appreciate the restorative benefits of biodiversity first-hand.
Anchored between three towering oaks and one beech in Westwood Valley, Isla from renowned artist John Grade is a striking 24ft sculpture formed of 4000 individual resin pieces suspended over the steep ravine. The dramatic work takes inspiration from the Espeletia or frailejón plant, a perennial shrub in the sunflower family, native to Colombia and found in the páramo, a high-altitude ecosystem in the Andes Mountain Range. Just as the frailejón gathers rain and mist and then releases moisture into the ground, Grade's installation will respond to rainfall, collecting the water in a series of interconnected cast pieces, and lowering towards the ground where it will slowly release the water and return to its original position. Visitors can experience this spectacle from numerous viewpoints, including a new 12m wide viewing platform being constructed this Spring. Kew scientist Dr Mauricio Diazgranados Cadelo is exploring the impact of climate change on this crucial habitat, which provides more than 80% of the fresh water to local communities.

Standing proudly in Wakehurst's Bethlehem Wood, The False Banana Pavilion takes inspiration from traditional huts found in Ethiopia, home of enset. This architectural installation, created by spatial-storytellers Flea Folly Architects, champions this wild banana relative, a staple crop for over 20 million people in Ethiopia. Upon entering the pavilion, visitors will be immersed in a cascade of giant paddle-shaped enset leaves that clad the walls, with the name and location of each unique landrace carved across them, a visual analogy of enset's spectacular diversity. Sometimes known as 'the tree against hunger', enset's unique food security qualities have been the focus of Kew Research Fellow Dr James S Borrell in collaboration with Ethiopian scientists. In mapping enset's distribution and diversity, Borrell continues to increase scientific understanding of this remarkable crop, helping to support the food security and climate resilience of communities across the Ethiopian Highlands.

Visitors return to the wonders of Colombia, one of the most biodiverse countries in the world, through Malgorzata Lisiecka's Hidden Dimension. As visitors enter the gardens, they will encounter the first of a bespoke series of 3D structures from the UK Young Artist of the Year nominee, designed to bring the beauty of underground fungal networks to the surface. Formed of a combination of willow and textiles, the large-scale structures will also takeover Wakehurst's Himalayan Glade, where two further mycelial installations simulate an x-ray view of the underground communities. Visitors will also be able to appreciate the detail of the large-scale artworks up-close as they pass under a bespoke archway, nestled deep in the Glade. The thread-like networks are inspired by the Useful Plants and Fungi of Colombia project led by Kew's Dr Mauricio Diazgranados and Dr Tiziana Ulian. This research aims to improve wider access to information on the country's useful plants and fungi for the benefit and use of local communities.

Further inspiration comes from the Caucasus and Mexico in the final two installations. Fine artist Helen Law champions the work of Dr Aisyah Faruk, who in collaboration with partners in Armenia and Georgia is protecting important wild fruit and nut species by collecting and conserving seeds from 120 species, engaging rural communities in sustainable harvesting and establishing local community orchards. In her playful installation Seed Feast, visitors can see the journey from seed to plate as edible plants grow through a large-scale wooden table. Above, Law suspends colourful seed-like structures formed of recycled acetate which cast intricate shadows on the ground, inviting people to pause and consider the fundamental role nature plays in supporting human life.
Multidisciplinary audio-visual artist Augustine Leudar also creates a sanctuary of reflection for visitors in Wakehurst's Water Gardens through a new bespoke 3D soundscape México Mágico. Transporting listeners to the forests of Mexico, Leudar's audio work immerses people in his recordings of native birds, insects and animals, audible across an acre of Wakehurst's woodland. The soundscape draws attention to the reforestation project led by Kew scientist Dr Tiziana Ulian who, in collaboration with the Universidad Nacional Autónoma de México, is banking the seeds of 300 different tree species to protect the vital forests used not only for timber, firewood and rituals but also ensures clean water and the prevention of soil erosion.
Young adventurers roaming Wakehurst can unearth extra interactive activities at every installation. From brass rubbings to QR codes revealing delicious recipes or fascinating films, there is something to inspire budding scientists and artists alike.
Events programme
Throughout the summer, a series of workshops and events offers visitors of all ages the opportunity to nourish their minds and bodies in the biodiverse settings of Wakehurst's wild landscape.

Nourish: After Hours
Thursday 11 – Sunday 14 and Thursday 18 – 21 August 2022
18.00 – 21.00
Adults: £15 (10% discount for members)
Children aged 4-16: £9
Under 4s: Free
Booking essential
Nourish: After Hours sees the gardens and installations come alive with captivating live performances, open-air cooking and botanical cocktails, forming the perfect midsummer date or night out with friends. Wandering through the landscape, evening guests will find many of the artworks can be enjoyed anew at sunset, enhanced with live performances, and delicious food inspired by the countries in which the Kew scientists are undertaking research. Dishes include plant-based Mexican street food, the Georgian speciality of pkhali, and Colombian empanadas.

Nourish: Workshops
Bring the family together with fun-filled creative and educational workshops. Uncover the secrets of our favourite foods and learn new forest skills.
Family Forest Adventure
Learn nature-based crafts and games, including jewellery making and stick weaving, and take part in a family scavenger hunt in the woods.
Monday 25, Wednesday 27 and Friday 29 July 2022
10:30 – 13:00 or 14:00 – 16:30
Adults: £10 (Members: £8)
Children: £5
Banana Science for Budding Scientists
Get under the skin of one of the world's favourite foods, learn how to extract their DNA and discover secrets of the banana family. For children aged 8-12 years.
Tuesday 2 – Wednesday 3 August 2022
10:30 – 12:30 or 14:00 – 16:00
£15 per child, one adult comes free

A Feast of Sounds and Songs
Join Music Mike for an interactive musical adventure, in a secluded woodland space. For children aged 1-5 years.
Monday 15 – Thursday 18 August 2022
10:20 – 11:00, 11:50 – 12:30 or 14:00 – 14:40
£15 per child, one adult comes free
Banana Explorers
Experience the jungles of Ethiopia, with campfire cooking and a lion-themed craft. For children aged 6 years and above.
Monday 22 – Wednesday 24 August 2022
11:00 – 12:30 or 13:30 – 15:00
£20 per child, one adult comes free