Borrow A Boat's guide to the UK's most secluded and picturesque beaches by region
We're lucky to never be more the 70 miles from a stretch of coastline in the UK. From the surf favourite, Watergate Bay in Cornwall, to the award-winning Bournemouth Beach, Brits are spoilt for choice when it comes to a day spent by the sea. But with so many beaches to visit, it's important to know the special spots that can often go overlooked.
Here, James Foot, on-the-water expert for Borrow A Boat – the Airbnb of boats -shares his guide to the best hidden beach gems in the UK.
James says "As an island nation, we're very lucky to be surrounded by beautiful coastline. Over the last two years we've noticed a significant increase in the popularity of UK water-based breaks – this growth is undoubtedly due to the recurring lockdowns and travel bans. We're finally enjoying the beauty that's in our own back yard.
"Our coastline offers up some truly spectacular beaches, but many of us are guilty of returning to our favourite spots time and time again.
"Time spent near or on the water is scientifically proven to make us happier and healthier, so whether you're planning a cold water swim, some paddle boarding, a family beach day, a surfing trip or a boating holiday, why not venture off the beaten path to discover a new seaside adventure this summer?"
From out-of-the-way coves and protected stretches of coastlines, to wild, dune-laden shorelines, James reveals the top UK beaches that you might not have heard of. With one favourite in every British coastal region, there'll be a beach to discover nearby no matter where you are…
Wales: Barafundle Bay, Pembrokeshire
A true hidden gem, Barafundle Bay is only accessible after a half mile walk along the Pembrokeshire coastline and up (and down) some particularly steep steps. But once there, you won't be disappointed. Expect golden sands and crystal-clear waters that are often likened to beaches in the Caribbean. Even better, as it's not so easily accessible, you'll often get the whole beach to yourself.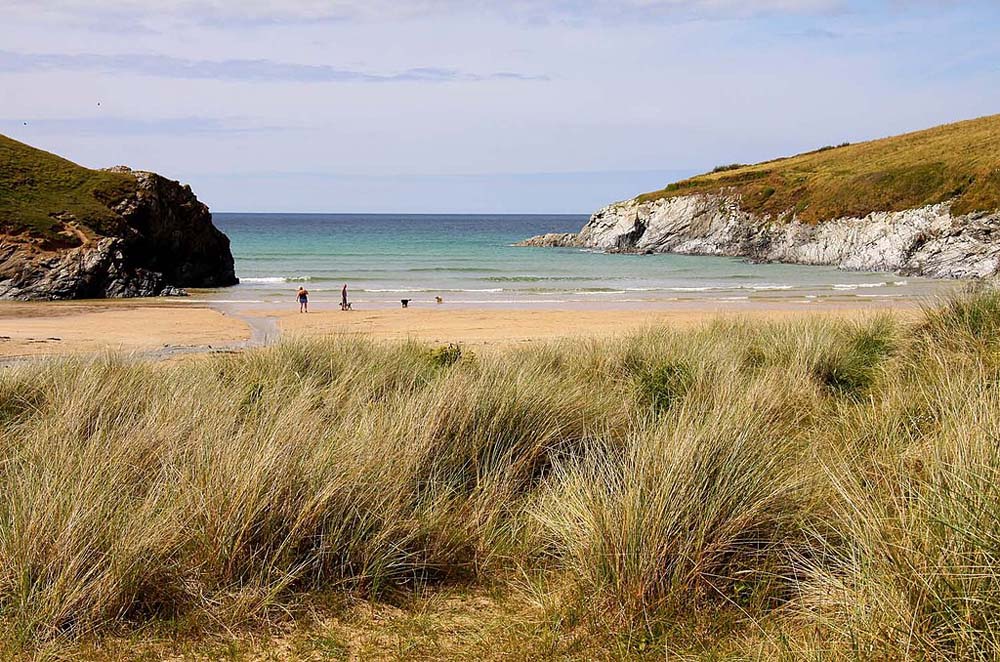 South West: Porth Joke Beach, Cornwall
Nestled in a deep cove between headlands with Crantock beach to the north and Hollywell Bay to the south, Porth Joke is often overlooked by visitors to Cornwall's sunny shores. Despite being just five miles from Newquay, this unspoilt sandy beach can be an oasis of calm even in the summer months. And unusually for UK beaches, those visiting with four-legged friends will find that dogs are welcomed on to the beach all year round.
South East: Botany Bay, Kent
Backed by stunning white cliffs and beautiful chalk stalks dotted across the beach, Botany Bay is one beach you don't want to miss. This beach is a great location for fossil hunting and exploring rock pools with little ones when the tide is out, so is an ideal coastal destination for the whole family.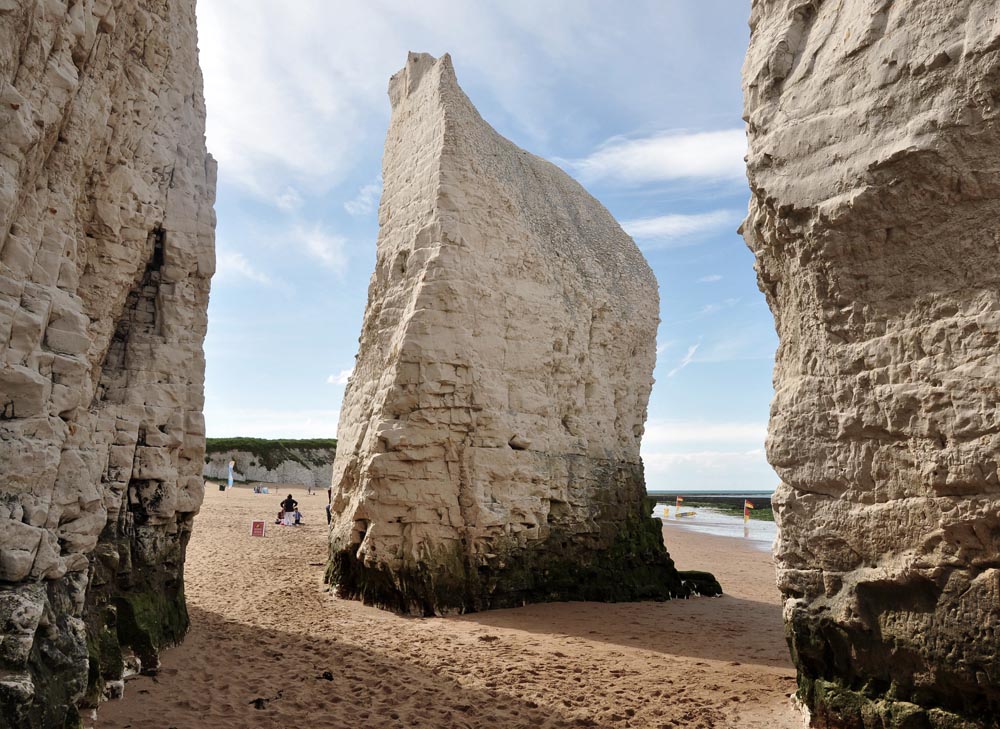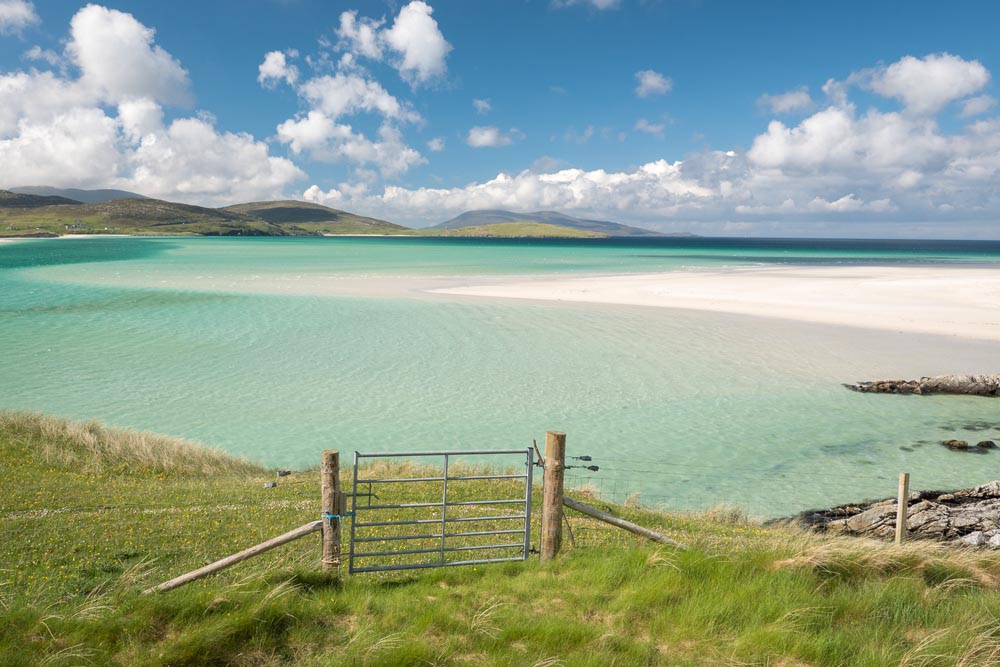 Scotland: Luskentyre Sands, Isle of Harris
At first glance, you might be forgiven for thinking this breath-taking beach is located on some far-flung, tropical island. But fear not, these crystal-clear waters can actually be found much closer to home – in the Scottish Outer Hebrides. So, while the turquoise waters might look inviting, a dip certainly isn't for the faint hearted. Expect chilly water but spectacular views and photo opportunities.
North East: Bamburgh Beach, Northumberland
When it comes to breath-taking backdrops, it's hard to beat the impressive twelfth century Bamburgh castle, looming at the end of the three-mile long Bamburgh beach. The pristine white sands make for the perfect spot to take a sunset walk. While the imposing fort might steal your attention, be sure to divert your eyes out to sea – where you can also spy lovely views of the Farne Islands.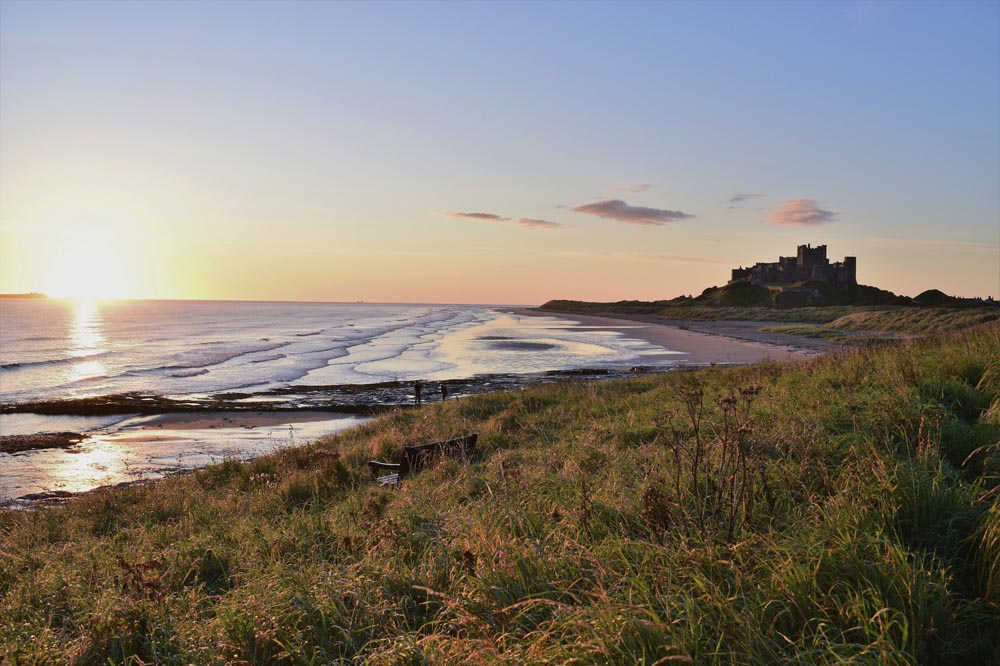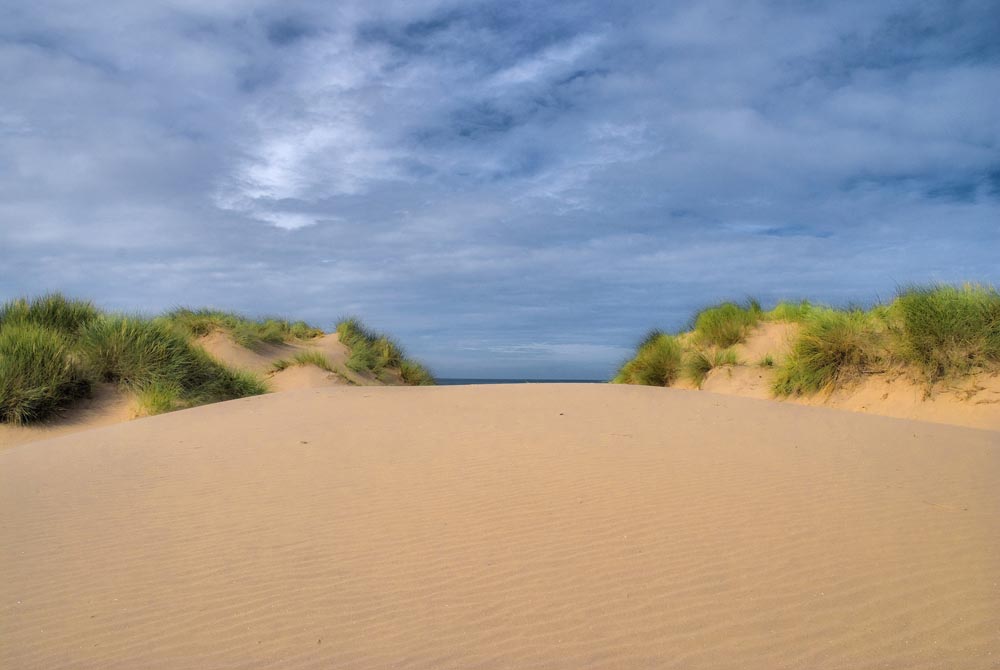 North West: Formby Beach
A local favourite, Formby beach in the North West is backed by dramatic sand dunes and surrounded by sweeping coastal pinewoods. The vast sands mean that even on the most beautiful of summer days, visitors can still feel like they've got the beach to themselves.
Yorkshire & The Humber: Sandsend Beach
The tiny, picturesque village of Sandsend is home to a gorgeous sandy beach, that is often overlooked by tourists visiting the area. Walk for an hour from the famed Whitby beach and you'll find yourself in this much quieter – but equally as pretty – slice of British seaside paradise.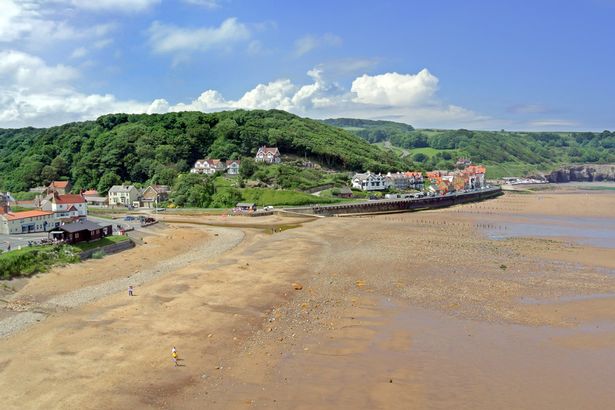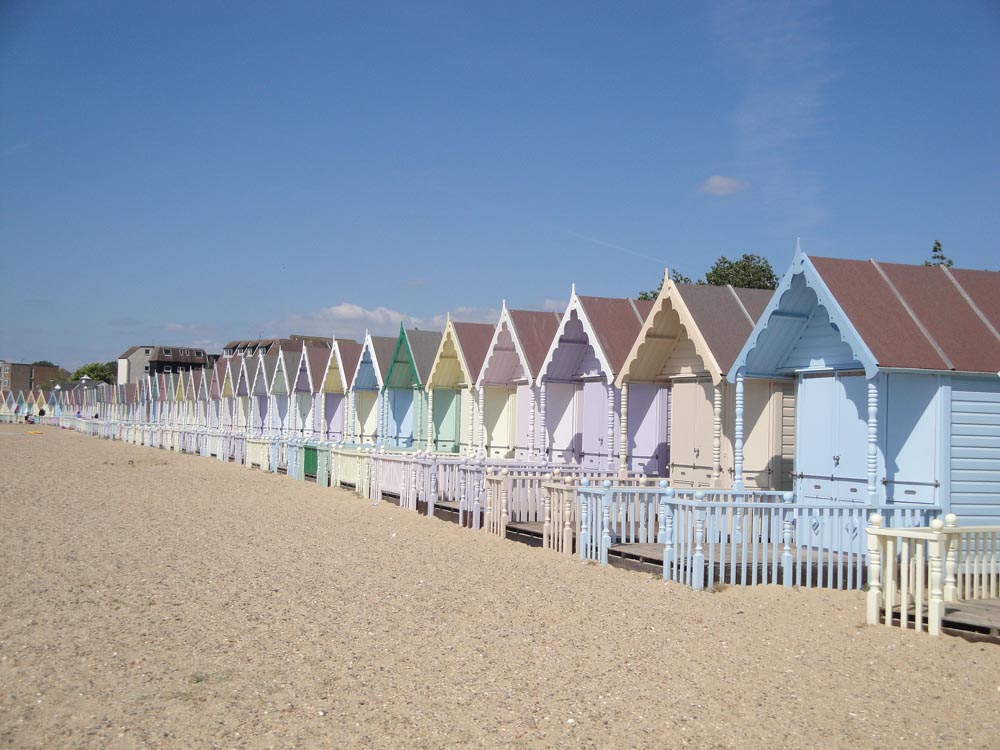 East of England: West Mersea Beach
With pastel coloured beach-huts lining the promenade, Mersea Island is picture perfect. Even better, with the island being home to the Colchester native oyster, a trip to one of the many seafood restaurants after a sunset stroll along the beach is not to be missed.
Northern Ireland: Waterfoot Beach
Located on the Causeway Coastal Route on the east coast of Northern Island, Waterfoot Beach is nestled at the foot of Glenariff Glen. Walk along the nearby coastline and you'll find yourself amongst some wildflower meadows, as you take in some pretty spectacular views out to sea.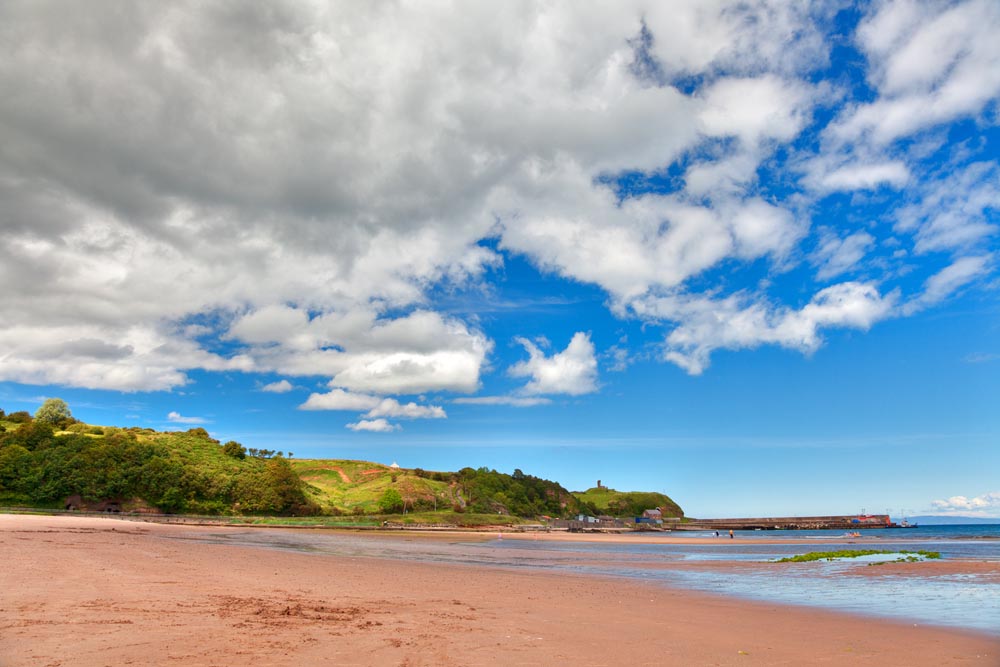 If you're keen to enjoy more time on the water and experience a boating holiday, visit BorrowABoat.com.