California Walnut Keema by Nadia's Healthy Kitchen
To kick-start vegan month (November), California Walnuts has developed seven meatless meals for each day of the week.
The mild and creamy flavour of California Walnuts can be enjoyed in a host of recipes. Once ground, walnuts also offer a wholesome, plant-based meat substitute that can work in curries, pizza toppings and more.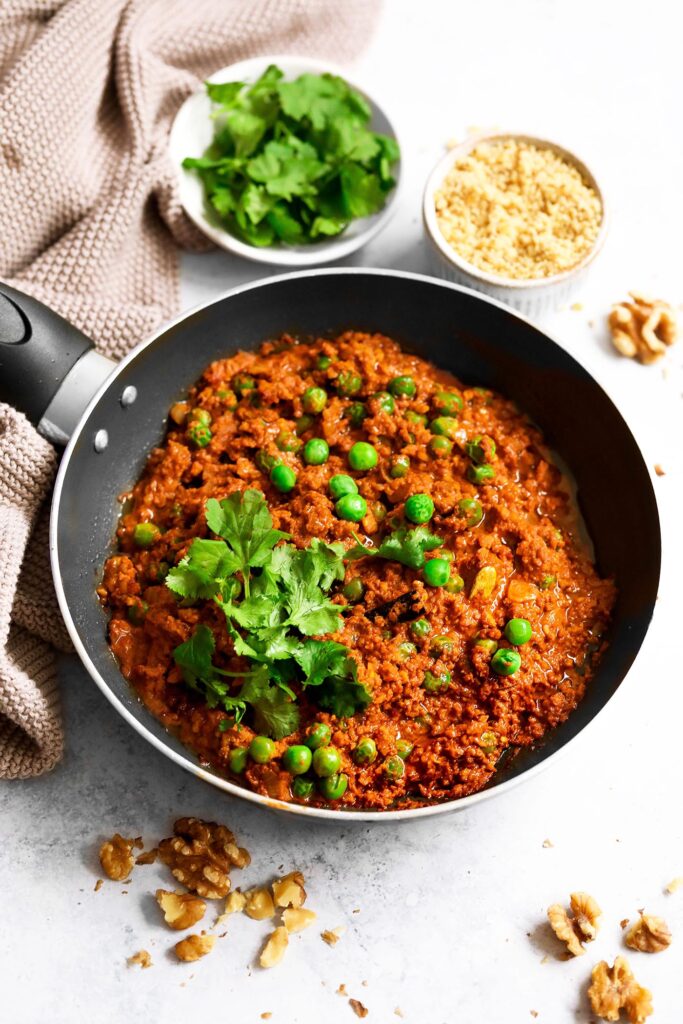 Course: Dinner 
Prep Time: 25 minutes 
Cook Time: 10 minutes 
Servings: 4
Calories: 271kcal
Ingredients
130 g California Walnuts
1/2 small onion finely chopped
1 bay leaf
2 small pieces of cinnamon bark
3 cardamom pods
1 tbsp garlic ginger paste
1/2 tsp cumin
1 tsp garam masala
1/4 tsp turmeric
1/4 tsp chilli
4 tbsp tomato purée
1/4-12 cup water
1 tbsp lemon juice
1 tsp maple syrup
Salt & pepper
60 g frozen peas thawed
Instructions
Place the California Walnuts in a food processor and pulse a few times until crumbly. Don't blend for too long. You don't want the texture to be too fine.
Transfer to a bowl and cover with lukewarm water. Leave to soak for 15-20 minutes, then drain.
Heat 1 tbsp oil in a frying pan. Sauté the onions for about 5 minutes until transparent, then add the bay leaf, cinnamon bark and cardamom pods. Cook for another minute.
Add the garlic ginger paste and spices, then add the walnut mince. Toss and cook for a couple of minutes.
Add the tomato puree, water, maple syrup and lemon juice and season to taste with salt and pepper. Continue cooking until the mixture thickens (about 5 minutes), then fold in the thawed peas. Take off the heat, garnish with fresh coriander and serve with rice. Enjoy!
Nutrition
Serving: 96g | Calories: 271kcal | Carbohydrates: 7.3g | Protein: 7.4g | Fat: 23g | Saturated Fat: 2.5g | Fibre: 3.8g | Sugar: 5.3g
Notes
Salt: 0.12g
Nutritionals are based on 4 servings