Moroccan Minced Walnut Flatbreads
To kick-start vegan month (November), California Walnuts has developed seven meatless meals for each day of the week.
The mild and creamy flavour of California Walnuts can be enjoyed in a host of recipes. Once ground, walnuts also offer a wholesome, plant-based meat substitute that can work in curries, pizza toppings and more.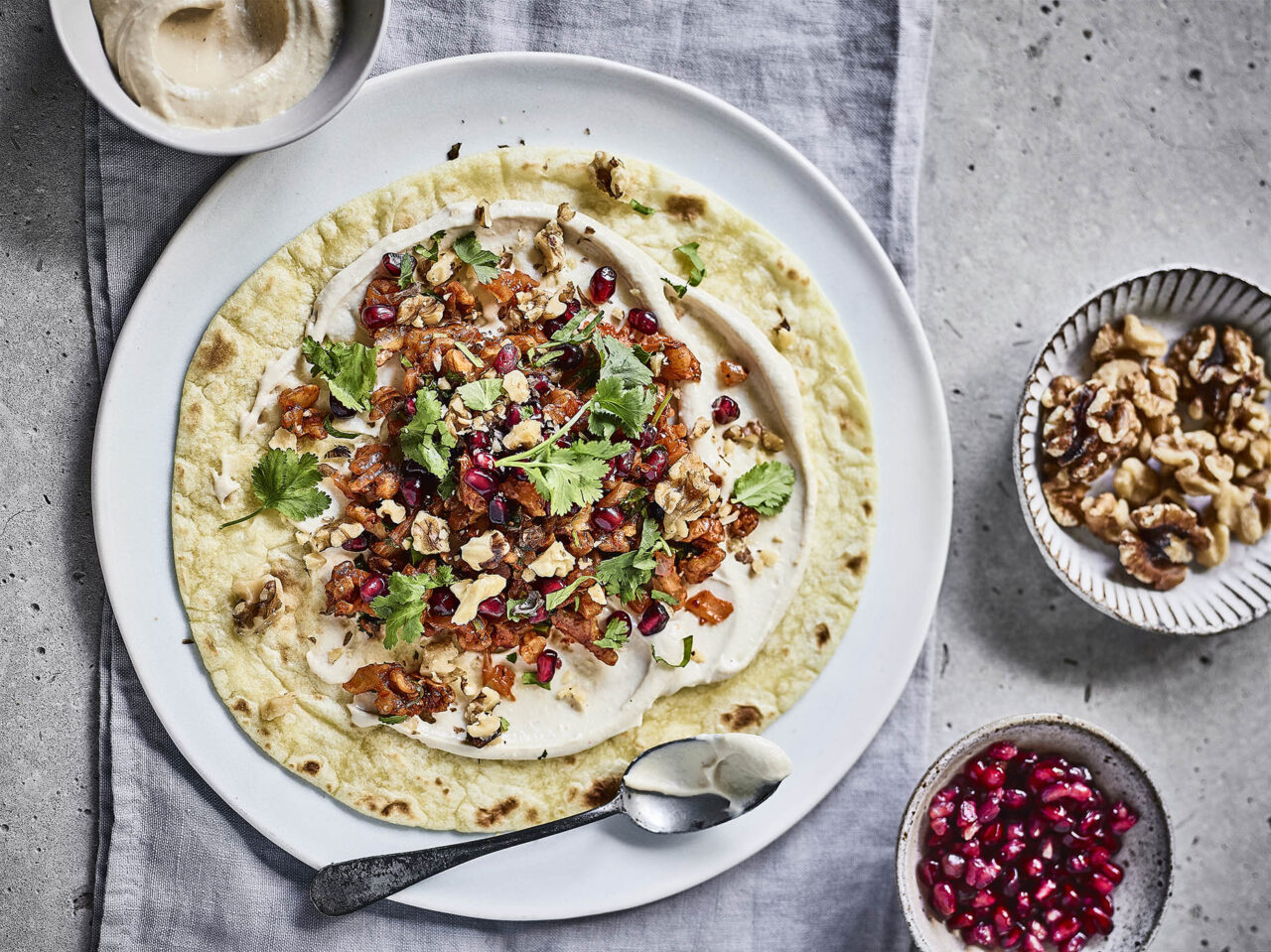 Course: Lunch 
Prep Time: 10 minutes 
Cook Time: 8 minutes 
Servings: 2
Calories: 944kcal
Ingredients
100 g California Walnuts plus extra to serve
1 tbsp olive oil
1 onion chopped
2 tsp harissa paste
1 tsp honey
3 tbsp chopped coriander
2 flatbreads
100 g houmous
50 g pomegranate seeds
Instructions
Finely chop the walnuts and place in a bowl, cover with lukewarm water for 20 minutes, drain well.
Heat the oil in a frying pan and fry the onion for 5 minutes, add the harissa and honey then add the walnuts and half the coriander and cook for a further 2 minutes.
Warm the flatbreads and spread with the houmous. Sprinkle over the walnut mixture and then the pomegranate seeds, extra chopped walnuts and the remaining coriander.
Cooks tip
Great rolled up in wraps or used to fill pittas instead of flatbreads.
Nutrition
Serving: 356g | Calories: 944kcal | Carbohydrates: 61g | Protein: 26g | Fat: 63g | Saturated Fat: 7.7g | Fibre: 15g | Sugar: 16g
Notes
Salt: 1.5g