After 18 months in a chair, it was time to stand with the help of Nuffield Health Shrewsbury Hospital…
Patricia had been suffering with ulcers on her legs for a long time. They were open wounds which would not heal and she was suffering unbearable pain, which was steadily increasing. Unfortunately, at first it was thought that nothing could be done except keeping the areas clean and changing dressings regularly.
At no point did anyone enquire as to how this was affecting Pat's life. Nobody knew that Pat was wheelchair bound from the pain, sleeping in a reclining chair or that she hadn't seen her bedroom for 18 months. She was managing to cook and clean but her quality of life was at an all-time low. As a previously active person, Pat became extremely frustrated and began to have very little interest in anything and says "she couldn't have done it without her rock, partner Ian".
Patricia is lucky to have some wonderful family around her and her Grandson wasn't willing to accept this life for his Gran. He made some enquiries about physiotherapy but the NHS was not an option during the pandemic so he contacted the Nuffield Health Shrewsbury Hospital.
Trudie Jefferys, Physiotherapist, did an initial call with Pat to review her situation and find out what she wanted to achieve from her sessions. Pat wanted to stand. Trudie was honest with Pat; "I was unsure if I could help or to what extent as I was concerned about Pat's movement limitations from sitting in the chair for so long", but they agreed to a face to face session.
Trudie began with strengthening exercises in the chair and kept pushing Pat a little more each time. She gave Pat exercises to complete at home between sessions and encouraged her to contact Social Services who provided aids for around her home. It has taken a great deal of determination and hard work but Pat has consistently hit every target that Trudie has set.
Pat met her goal and stood up from her chair. It was a great day and a massive achievement but Pat wanted more. She continued to push herself with Trudie's help, began to walk with aids and even overcome her biggest hurdle, stairs!
The pain has reduced to an ache and Pat's quality of life has increased dramatically. Pat can now get up and down the stairs, sleep in her own bed and even get out into the garden with her rollator frame. She is so much happier and enjoying being able to do her jobs without relying on others.
Both herself and her partner are so grateful to Trudie but Pat's hard work and determination has really paid off. Trudie said "Pat is my biggest success story to date and I am so proud of her".  Pat has now achieved her goal of walking independently around her home and is now planning her ultimate goal of walking outside in her garden and with the determination she has shown so far, there is no doubt she will succeed!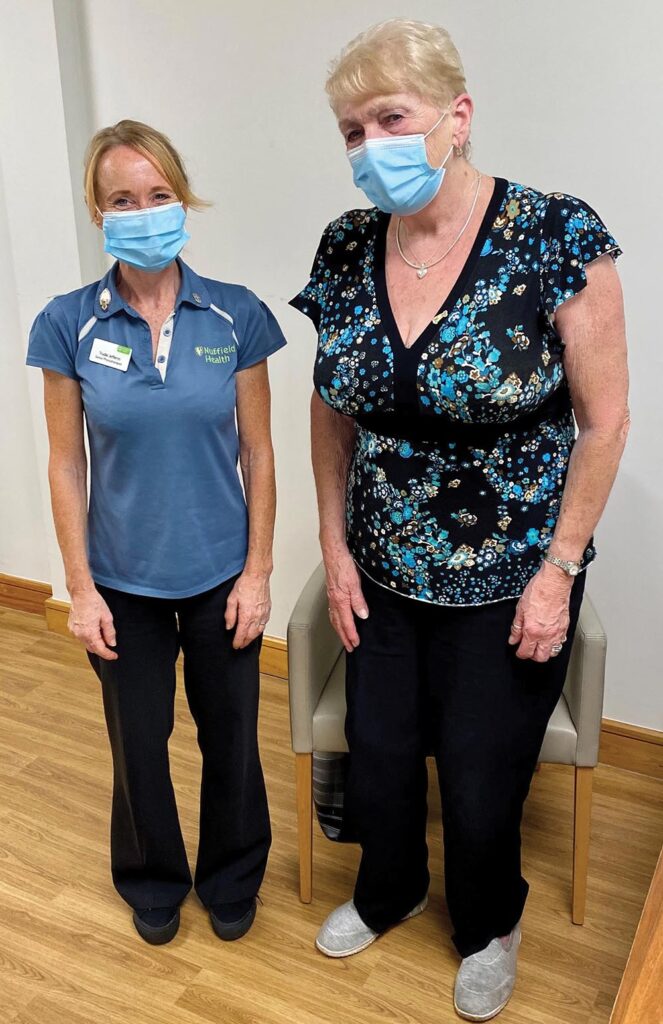 Sally Dulson Sales & Services Team Leader
Nuffield Health Shrewsbury Hospital
For further information, please contact the Customer Services Department of the Nuffield Health Shrewsbury Hospital on 01743 817603.